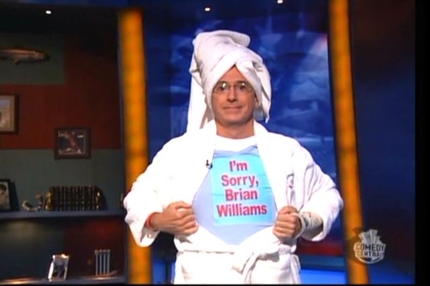 Oh, my golly gosh — was last night's Colbert Report ever packed with good stuff. In possibly the most packed ep of the show since December's famed "Guitarmageddon," the show not only finally aired the infamous interview between Colbert and "rebel billionaire" Richard Branson — which become a media event after the story about Branson flinging water on Colbert leaked (heh, leaked) — but there was clear advancement of the story in the saga of Stephen's WristStrong™ bracelet. A recap, for those of you under the sheltering comfort of a rock: Stephen broke his wrist, and decided to support wristal health everywhere with a red WristStrong™ bracelet, sold on his ColbertNation site with proceeds to the Yellow Ribbon Fund, which helps injured service members and their families. Colbert has embarked on an awareness-raising Listening Tour (er, Wristening Tour? Thanks everyone, I'm here all week! Try the veal!), visiting Big Three anchors Katie Couric and Brian Williams on their respective sets and extracting promises to wear the bracelet on the air (Charlie Gibson was and remains AWOL on this). On Monday night, Colbert aired a segment calling out Couric and Williams for reneging on that promise — prompting Williams to strike back (via ETP, your source for anchor-related wristal news) with proof that yes, he had actually worn the bracelet on the broadcast.
Which brings us, Nation, to tonight's show. We have a video clip below — because Viacom
loves it when you post their stuff!
* — but it falls to us to bring you the wrist-related news you crave. To wit:
Colbert showed the pic of Williams wearing the bracelet on Aug. 15, 2007, first revealed to the world on ETP
Colbert acknowledged NBC's claim that Williams wore the bracelet the night before as promised, but it had slipped up Williams' "beef-brisket forearms." O my stars.
Colbert reluctantly acknowledged that Williams was "a man of his word after all."
However, Colbert questioned that Williams — who is also referred to in the blogosphere as "BriWi" — had fully executed his duty by passing on the bracelet to "Today Show" host Matt Lauer, showing subsequent footage from today wherein Lauer wasn't even there.
According to Williams' statement to ETP, he DID give the bracelet to Lauer; also according to Williams, he and Lauer are "buds" and "hang together all the time."
Colbert pledged not to rest until he had photographic evidence of Lauer wearing the bracelet.
At the end of the show, Colbert ripped open his robe (cf. Branson, dripping) and revealed a t-shirt reading, "I'm Sorry, Brian Williams." Which must make Williams feel pretty smug because anchormen love to be right.
O-kay! You're all caught up — or are you? Because there remain so many unanswered questions! If Colbert was wrong about Williams wearing the bracelet, what about Katie? Might she, too, have been the victim of inadvertent bracelet-slippage up her slender, non-brisket like forearm? And what about Charlie Gibson? Did he ignore Colbert's request — or is he the victim of a cruel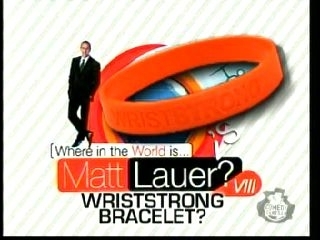 snub? Where in the world is Matt Lauer, anyway? Or, for that matter, the communal NBC wristband — AWOL since Williams bequeathed it to Lauer after the Aug. 15th broadcast? Those queries have been sent out to each network, and ETP will be sharing those answers with you as we have them.
In other news, the Richard Branson interview was totally hilarious and didn't seem at all uncomfortable or bizarre. But still, the buildup made it fun. Props to our pals at FishbowlNY — ETP's old Colbert-stalking stomping grounds — for getting the word out and inspiring the "trainwreck" title, and props to the Colbert watchdogs at NoFactZone who technically broke the story 'cause they posted first. Fair is fair here at ETP!
That's all — for now. But clearly, much about WristGate lurks beneath the surface, so we pledge to stay on this story and bring you update as they come in.
Related:
WILLIAMS TO COLBERT: I'VE GOT YOUR BRACELET RIGHT HERE! [ETP]
Charlie Gibson Will Break Your $#@&% Wrist [ETP]
Colbert Interview Shocker! [NoFactZone]
Richard Branson's Colbert Report Interview Trainwreck [FishbowlNY]

The Last TIme Colbert Hearted ETP:
Stephen Colbert Shocks And Awes; Loves A Shred-Off, And Us [ETP]

Our Very First Colbert Scoop That Was Totally Ignored, But We're Not Bitter:
AP story on truthiness short on factiness [FishbowlNY]
*We kid, Comedy Central people. Send us the video link and we'll swap it out. Until then, information wants to be free.