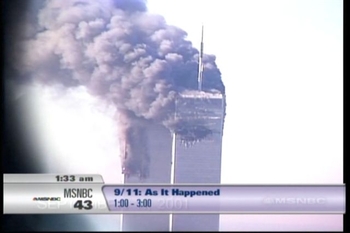 Last night, MSNBC reran raw Today Show footage from 9/11, and it was mesmerizing. For two hours in the early morning — from 1 - 3 a.m. — the day unfolded just as it had, in real time, with all the growing shock and disbelief and horror as information trickled in and things went from terrible to catastrophic over the span of two unbelievable hours. It was riveting, shocking, painful television — one of the worst moments was a report of the first responders getting to the scene and charging in. This was before the buildings fell.
It was a terrible thing to see, to see helicopters flying around the buildings after the first plane hit — thinking they could help, realizing it was futile; unbelievable to hear Katie Couric and Matt Lauer's voices, so familiar, trying to make sense of something that we've heard them talking about for years — getting reports from Andrea Mitchell that, incredibly, there were more planes unaccounted for, hearing Lauer explain who Osama bin Laden was for the first time, as some unknown name, was bizarre). Jim Miklaszewski's live reporting from the Pentagon was riveting — especially his as-it-happened report of being hit, of feeling the floors shake, smelling an acrid smell, wondering why they hadn't had the order to evacuate, and admitting he was afraid; Tom Brokaw joining them, recognizing the implications of the attack as an act of war; Ron Insana joining them on set after making his way uptown, covered in dust, describing how it was "pitch black" for blocks when the towers came down. The whole thing was just — wow.
It was gripping and moving and mesmerizing and upsetting, and now it's time for the questions — was it a good idea? Maybe that's the wrong question, because I'm glad I saw it, and I'm glad it's available, just as ETP noted approvingly that CNN had put its own raw footage online last September 11th, on the fifth anniversary. It did make me wonder, though, about when it stops — year seven? After the tenth anniversary? Never, because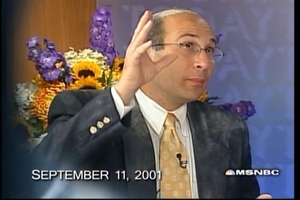 it's NBC owned and in the archives, after all, so why not? I don't have an answer for this — it's not like it's pre-empting prime time, if MSNBC wants to run it from 1 - 3am 'til kingdom come, well, that's 2 hours less of Dark Heart, Iron Hand per year. No biggie. It did strike me as a bit odd that MSNBC would show these two hours featuring Katie Couric — then key team player, now arch-competitior — at her finest. Couric was excellent at this key moment, calm and in control, marshaling facts and synthesizing the reports coming in. People ask the question, "who do you want to get your news from during a 9/11?" — Couric did as good a job as anyone that day, right alongside Brokaw, with authority and humanity and control. This footage showcased her abilities better than anything I've seen on the CBS Evening News...courtesy of MSNBC.
I have no conclusions drawn here, just really those questions, and just wanting to mark it as a moment that speaks to the importance of television coverage — we may not gather 'round the TV every night to receive the news, but on that day that is exactly what we did, what we needed to do.
NB: This broadcast came right after the rerun of Countdown, which Keith Olbermann hosted from Ground Zero, joined at one point semi-surprisingly by the very same NBC Nightly News anchor emeritus Tom Brokaw — which says something about either Countdown's rising star, Brokaw's free time, or the encroaching acceptance of partisanly-delivered news by straight-news stalwarts. Or maybe all three. But more than anything, it raised the specter of Olbermann's idiotic comment to Playboy. Fox News is worse than al Qaeda, as you report with that gaping wound in the city still behind you? Not cool, Keith Olbermann. Not cool.
Update: I have been informed that MSNBC ran that footage yesterday morning and at 10 p.m. as well. So make that three less hours of Dark Heart, Iron Hand.
Related on Sept. 11, 2006:
CNN Pipeline Will Take You Back, If You Can Handle It [ETP]