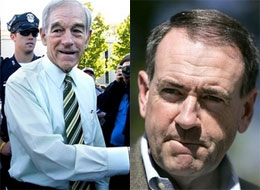 Big news broke today involving the fundraising totals for two second-tier Republican candidates.
On one side of the spectrum was the revelation that Mike Huckabee has failed to parlay his strong showing in the Iowa straw poll into campaign cash. The former Arkansas governor reported a paltry $1 million in donations during the last three months, with $600,000 now cash on hand.
Meanwhile, under the category of "What the...." Rep. Ron Paul, the anti-war Texan, reported raising $5.3 million in the third quarter, matching the total of one-time frontrunner - and war supporter - Sen. John McCain (R-AZ).
So which story caries more significance for the 2008 election? A Republican close to the presidential race told the Huffington Post that "it's definitely Huckabee's poor showing. I don't know how he was unable to turn the straw poll into more than he did. I'm hearing whispers within Arkansas that he is coming to a realization..."
Dropping out of the race?
"Let's put it this way, that they won't be able to do what they wanted to."
Asked if this was true, Huckabee's spokesperson Alice Stewart chuckled and said, "No, not that I know of... We are satisfied with our third quarter fundraising totals."
As for Ron Paul? "It's impressive," said the Republican official, "but he's still dismissed as a serious candidate... The question is what is he going to do with that $5.3 million?"