NBC News Loves Marion Jones' Guilt... At Least A Little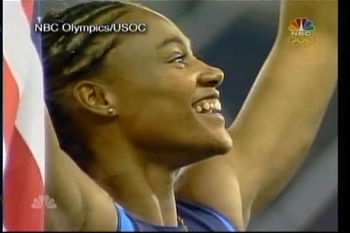 Tonight on NBC's Nightly News with Brian Williams, Marion Jones pleading guilty to federal charges of doping led the broadcast. It led Charlie Gibson's broadcast on ABC, too, but that report paled compared to NBC's. Why? The video. NBC has the exclusive rights to all the Olympic video. The network paid $705 million for the rights to the Sydney games, where Jones won her five medals, and they've paid a few billion more for the rights through 2012.
Williams stayed on the Jones story until 6:38, when he moved on to Bush and torture. In that time, viewers saw Jones running the 200 meter race, smiling and waving with the American flag around her shoulders after a victory, anchoring a relay and more. All beautiful, clear and branded with the NBC Olympic logo.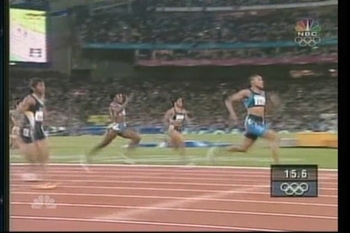 Meanwhile, ABC had a few still shots of Jones in the red white and blue, footage of her signing autographs and some grainy home video of a World Championships. When ABC then spoke to Inga Miller, who placed second to Jones at the World Championships, one imagines the video was Miller's own. Gibson moved on to the job market at 6:35.
So, if you want the most engrossing stories about Marion jones, or any Olympian in the news, watch NBC. It's incredibly sad and disappointing that the allegations turned out to be true, but somewhere there's a netwok exec feeling just a little smug about money well spent.