"Every family has a black sheep," is the Obama campaign's response to Lynne Cheney's declaration on MSNBC yesterday that her husband and the Illinois senator are distant cousins.
Cheney says their joint lineage can be traced through the 17th century Huguenot Mareen Duvall, who settled in Maryland to escape religious persecution in France.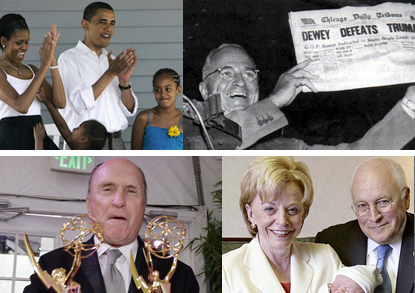 It appears Duvall produced quite a chain of famous relatives. According the "Society of Maureen Duval Descendents," former President Harry Truman and actor Robert Duvall are also part of the family tree -- does this mean Barack, Harry, Dick and Robert are all related? That would be quite a family reunion. Scott Fornek at the Chicago Sun Times elaborates on the connections in a September blog post.
FOLLOW HUFFPOST