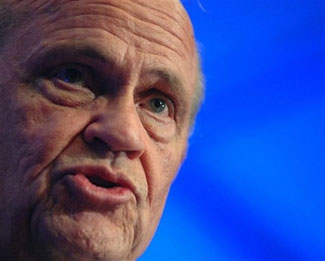 Republican presidential candidate Fred Thompson raised more than $9 million over the past three months, a generally strong showing according to political analysts. But a closer look at the sources of the money - particularly a geographic breakdown - points to potential problems for the Tennessean's White House ambitions.
An analysis of campaign finance records -- accessible on Huffington Post's FundRace -- shows that Thompson raised a paltry $12,250 from donors in Iowa, the first caucus in the primary calendar. That total actually bests the $10,450 Thompson brought in from New Hampshire, the first primary state.
The fundraising statistics reflect a candidacy that is still in its infancy and facing significant hurdles. Thompson's main competitors for the nomination each have campaigned for months in these two key states and have fully developed on-the-ground operations. Former Massachusetts governor Mitt Romney received roughly $70,000 in third quarter donations from Iowa and some $85,000 from New Hampshire (Romney does have a geographic advantage in the Granite State). Former New York City mayor Rudy Giuliani, meanwhile, brought in about $45,000 these past three months from Iowa donors and $30,000 from New Hampshire.
To be sure, Thompson is betting much of his campaign's success on a good showing in South Carolina, the primary immediately following New Hampshire. But even there - on his relative home turf - Thompson finds himself either matching or being beaten by his main competitors. The approximately $66,000 he raised in South Carolina in the third quarter was just $10,000 more than Romney and nearly $100,000 less than Giuliani.
For Thompson, the fundraising shortcomings are not, as political observers note, financially significant. But they underscore the uphill climb he faces in recruiting key voters to his cause.
"It is undoubtedly the case that if someone donates to you they are invested," Stuart Rothenberg, editor of the Rothenberg Political Report told the Huffington Post. "A candidate for president would like to raise money in Iowa and New Hampshire because they want people in those states to invest in them financially and emotionally."
Thompson's fundraising totals also leaves him vulnerable to critics who claim that his folksy, rural demeanor is incompatible with his past work as a K-Street lobbyist. During the past quarter, Thompson made the most of his ties to Washington, raising more than $140,000 from sources inside the nation's capital and more than $325,000 from donors in D.C.'s wealthy northern Virginia suburbs.
As Rothenberg points out, Thompson, like all candidates entering a political race, focused much of his early fundraising efforts on the low-hanging campaign finance fruit. Rougly $2.6 million of the money the former senator brought in during this past quarter came from his home state of Tennessee. Another $1.2 million came from the conservative bell-weather, Texas.
Taken as a whole, Thompson, according to at least one Republican strategist, remains well positioned financially to win the presidential nomination. But another poor showing in New Hampshire and Iowa could pose major problems - monetarily and politically - for the candidate thought to be the great conservative hope.
"Among the Republican field the one who has the most upward potential with the conservative base is Thompson. The question is, does he have enough time," Craig Shirley, a Republican consultant, told the Huffington Post. "[His low totals in Iowa and New Hampshire] is not a big deal yet. But if in the next quarter shows essentially the status quo, then I would say the alarms will be going off."