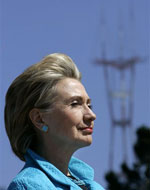 Hillary Clinton's top strategist Mark Penn gave his candidate a black eye after it was revealed that the public relations firm he heads helped Blackwater officials prepare for recent congressional hearings. While the campaign may have controlled any damage from the revelation, Penn's firm continues to assist an energy corporation closer to home that citizens in Pennsylvania accuse of using strong-arm tactics to promote a controversial 240-mile long extension of electricity lines through their communities.
Allegheny Energy is seeking to build 210 miles of 500-kilovolt transmission lines from southwestern Pennsylvania through West Virginia, where they will connect with a related expansion effort planned by Dominion Power of Virginia. Community activists and political leaders in the states have strongly objected to the power line route, known as the Trans-Allegheny Interstate Line, or TrAIL.
In the hopes of managing the opposition so that the massive infrastructure project can move forward, Allegheny boasts that it "signed a contract in September [2006] with Burson-Marsteller, a major public relations firm with offices in the U.S. and Canada....[to] assist the company on a number of fronts, including preparation of materials for the public and conducting research." Clinton's strategist Penn has served as worldwide CEO of Burson since December 2005.
Allegheny Energy was not eager to speak with the Huffington Post about its relationship with the PR company. "That's not a concern of yours," David Neurohr, a spokesman at Allegheny Energy, tersely answered when asked Friday about the nature of the relationship between the two companies.
The project is part of a proposed Mid-Atlantic corridor within the National Interest Electric Transmission Corridors, a federal effort to avert a future blackout like the one that turned off the lights across much of the country's northeast in 2003.
The proposed power line corridors have provoked controversy across the region. After the Energy Department proposed a route through her state, Clinton spoke out strongly against the establishment of the so-called New York Regional Interconnect.
"I and my constituents have repeatedly voiced our concerns regarding the economic and environmental impact of the proposed New York Regional Interconnect (NYRI) route," she wrote in a letter to Secretary of Energy Samuel Bodman in May. "I continue to oppose the proposed NYRI route. I support the ongoing review process within New York State and will continue to push the DOE and FERC to respect it. NYRI should not be allowed to short-circuit the state's rigorous review and citing process."
But the Clinton campaign didn't see any reason for concern about Penn's firm representing Allegheny Energy.
"Mark has never worked on this account," said Clinton spokesman Phil Singer in a Tuesday e-mail. "Obviously our position has not been impacted in any way by Burson's role."
The National Interest Electric Transmission Corridor was a policy response to the 2003 blackout that pitched large portions of the U.S. northeast into darkness. Various corridors have been designated for power line expansions in the context of the NIETC. Under the Energy Policy Act of 2005, which Senator Clinton voted against, energy companies can file eminent domain claims in federal courts if states refuse to approve proposed power line expansions. This authority was originally called for in Vice President Dick Cheney's controversial 2001 Energy Task Force report.
The TrAIL project seeks to play an important role in the proposed Mid-Atlantic Corridor. If completed, it will provide energy from power plants in Pennsylvania to customers in Virginia and other parts of the eastern seaboard (another part of the project will also provide power locally over smaller lines in Pennsylvania).
But the company still needs to persuade the Pennsylvania Public Utility Commission to approve the program. And after months of advertisements, public testimony, and company-sponsored open houses, whether or not construction will go forward still remains up for grabs. Driven by local outrage, Pennsylvania politicians have backed strong opposition to Allegheny Energy's plans.
Senators Arlen Specter (R) and Bob Casey (D) sent a letter on October 2 to the Energy Secretary objecting to the placement of new power lines in 50 of the state's 67 counties.
"This is very damaging to Pennsylvania," Specter added in a small handwritten note to Bodman in the margin of the letter.
While touring counties where Allegheny Energy's proposed route would pass last week, Senator Casey also pledged to support his constituents in their efforts to block construction of the TrAIL.
"This will be a long, tough fight, but we are going to keep fighting," he told a local paper, the Uniontown Herald-Standard.
Rep. John Murtha (D-PA), whose district will be affected by the project, said in September that he "remains concerned about the potential hazards of locating these high-power lines close to existing homes and communities, as well as the impact the lines will have on property values."
While state politicians and the senators wouldn't directly comment on the efforts of Allegheny Energy to promote the program, county-level politicians and community activists are sharply critical.
"They're sending out propaganda in every electric bill on how this line is needed," said Pam Snyder, the Chairwoman of the Washington County Commission in Pennsylvania. "They say that you better build this if you want the lights to come on when you flick the switch. They're using fear tactics, and all I know is that there is no need for this line locally, this is about generating power to DC and Virginia, it's about putting electricity on national grid and making a buck."
Energy Firm Accused Of Pollution, Strong Arm Tactics To Build Line
Allegheny Energy's background makes the company's quest for help in strategic communications understandable.
First, though dealing in a state with a Democratic governor and route proposed that primarily runs through Democratic-represented congressional districts, Allegheny's political giving trends Republican. While the company's political action committee has backed both Democrats and Republicans in Congressional elections, the company's executives collectively gave $5,500 to Mitt Romney's presidential campaign in June. The Allegheny PAC also gave $5,000 President George W. Bush's election in 2000.
The publicly traded utility earns $3 billion in annual revenues, supplying power to parts of Pennsylvania, West Virginia, Maryland, and Virginia.
Allegheny produces 95% of its power via the 19 million tons of coal it burns every year. Its heavy use of coal has resulted in criticisms of the company, such as its inclusion on the Political Economy Research Institute's Toxic 100 list. Based on 2002 Environmental Protection Agency data, Allegheny Energy was ranked the 82nd highest corporate air polluter, and data published at Allegheny's own website shows that its annual toxic releases have increased since that time.
Still, the environmental and health costs of the project are difficult to measure in any way that isn't speculative. Some residents along the route fear the clearing of forest and the use of herbicides to control vegetation underneath the towers, some of which will be 160 feet tall. The towers would also obstruct rural scenery. Others worry that the electromagnetic fields from the wires will make them sick. But the final route is not yet set in place, so the real environmental impact cannot yet be assessed.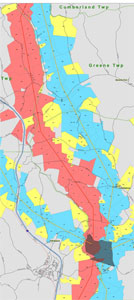 In the meantime, citizens in the path of the TrAIL worry about the economic impact of the project.
"What will happen in our particular community if the towers come is that some families will be trapped because they cannot afford to move," said Laurie Nicholl of Eighty Four, Pennsylvania. She helped start the group Stop The Towers.
Other families will move and try to sell their homes, and they'll take incredible losses to do it," she says. "We've talked to real estate agents, and property values will plummet if this thing goes through."
In addition to their fears about property values, activists are chagrined about paying for the costs of constructing towers that will send electricity to other states via hikes in their monthly electricity rates. Allegheny Energy acknowledges this fact at their website, stating that, "All electricity consumers ultimately pay for transmission services."
Allegheny is quick to point out that they own 90% of the rights of way contemplated for the project. But the other 10% still needs to be surveyed and purchased, and the communities feel that the energy company's tactics to achieve this end have been too aggressive.
For instance, property owners accuse contract-based land agents working for the company of ignoring their objections to their surveying efforts.
"They send land agents out to people who have existing rights of way or are in the way of this line, and they throw out half truths," Nicholl said, adding that her family members were threatened with losing their homes. "'If you don't deal with us, we'll take the property through eminent domain and you'll get nothing,' they say. To me, it's unconscionable that a company is allowed to operate like this in 2007 in the United States."
Her colleague Rick Layton, also described the Allegheny land agents sneaking onto his land, and both he and Nicholl described neighbors returning home to find surveying stakes mysteriously left on their property.
"They tried to survey my land," said the former high school math teacher, who says that a tower will come within 300-500 feet of his home. "They showed up one day at my house, and I happened to see them on my way out, and I confronted them, and made clear that I don't want them on my property."
Allegheny Energy's spokesman replied that he was not aware of the company's land agents trespassing, and added that "opinions vary" on their conduct. He also insisted that the company was not threatening the pursuit of federal eminent domain cases.
"We are working through the state regulatory process in order to have this project approved," Neurohr explained. "This has nothing to do with the Energy Policy Act of 2005, these are state regulatory proceedings that we are continuing with."
Strong Promotional Strategy Used By Allegheny To Overcome Objections
The company has engaged in a fierce PR effort to make its case for building the towers. Spokesman David Neurohr believed that these promotional efforts have been 'open.'
"We've hosted public open houses, which are not required by any regulatory body whatsoever," the Allegheny Energy spokesman said. "We've brought outside experts from PJM Interconnection to answer any questions the public would have."
Allegheny has put up a website, APTrAILInfo.com, to provide information on the project. It has sent e-mails to interested parties, and inserted literature on the project in customers' monthly bills. It has also run a series of radio and print advertisements promoting the completion of TrAIL. Laurie Nicholl, the Stop The Towers organizer, estimated that a series of ads in one local paper would have cost around $12,400.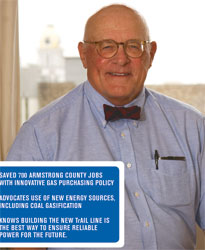 A centerpiece print advertisement involved Bill Shane, a retired Commissioner of the Pennsylvania Public Utility Commission who has spoken out in favor of the project.
"I strongly believe that the energy needs will go up about 30% over the next 25 years," Shane told the Huffington Post on Thursday. "We need all five legs of the stool, i.e. conservation, renewable energy, clean coal, nuclear power, and we need better infrastructure. It's as simple as that."
Allegheny Energy insists that it didn't pay Shane any money to speak out on the company's behalf in its print advertisements and at public hearings on the TrAIL project.
"We didn't a pay him a thing," spokesman Neurohr said when asked how much the company had offered him.
But Shane presented a different picture.
"They asked me to help," Shane said of Allegheny. "They offered to pay me, but I said no, because I knew it would destroy my credibility totally, and I believe in the project, so I said I would come and testify for free."
While Neurohr would not confirm that the company offered him money, he also did not deny it.
"That's not a concern of yours," he again said.
However, Neurohr did state that the firm did not pay other citizens who spoke out in favor of the company at PUC hearings.
The company has also engaged in efforts to persuade reporters that its construction plans are responsible. In August, the company flew reporters in Pennsylvania over part of the route in a helicopter, resulting in headlines that declared that blithely declared the planned construction locations "mostly rural."
Clinton Pollster's Firm's Role In Promotion Remains A Mystery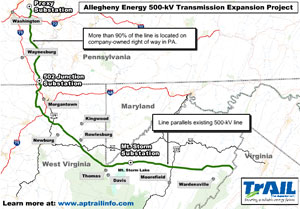 Allegheny Energy was unwilling to speak to the precise role played by Burson-Marsteller in its promotion of TrAIL. While it claimed much of the content for its ads and mailed and e-mailed literature was generated internally, an online map of the transmission line's route is hosted on Burson-Marsteller's website for its clients.
Burson-Marsteller wouldn't offer any additional insight into how much of Allegheny's PR efforts, from the ads to the offers to pay Bill Shane to the website, originated in its offices.
"As per our firm's policy, we do not discuss our clients past or present," said Paul Cordasco, Burson-Marsteller's director of Global Media Relations.
But the PR firm did agree with the Cilnton campaign that its CEO, the pollster for Hillary Clinton, did not have his fingerprints on the client's promotional efforts.
"Mark has never worked for this client," Cordasco added.
As for the Clinton campaign, they argue that the senator's opposition to projects like TrAIL is unwavering.
"We oppose the project," campaign spokesman Singer noted. "In fact, Sen. Clinton introduced legislation, S. 1972, that would specifically strike the eminent domain authority from [the Federal Energy Regulatory Commission] so that they could not overturn state rules and build transmission lines against a state's wishes."
But that might not be enough for the citizens who could be affected by the TrAIL project. At least one supporter of Senator Clinton said that if the company run by her top strategist is really helping Allegheny Energy make its case to build the towers, she might have to rethink her vote.
"You know, I've been supportive of Hillary Clinton, but anybody that's using a company that's helping Allegheny Energy build these lines, I would have to think twice about," Washington County Commissioner Pam Snyder said.