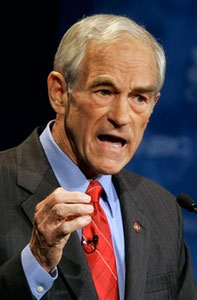 The presidential campaign of Rep. Ron Paul has built some momentum in recent weeks. The Texas Republican has carved out a unique space for himself in the 2008 race for the Republican nomination with his strident anti-war stance and his libertarian political pronouncements. He raised around $5 million in the third quarter, only slightly less than 'first tier' candidate John McCain. And things might be looking up for him in New Hampshire.
Paul is seeing his poll results on the rise in the Granite State, which traditionally holds the second primary contest of the presidential cycle after the Iowa caucuses (but maybe not this time around - more on that in a bit). The University of New Hampshire's Survey Center put him at a still modest 4 percent at the end of September. But another poll from the firm Insider Advantage in early October showed that 10.4% of voters who describe themselves as moderates said they would vote for Paul at the time.
New Hampshire's primary is set up so that while registered Democrats or Republicans must vote within their party's primaries, voters who do not declare a party can vote in either party's primary. And one veteran of the state's politics predicts that New Hampshire's undeclared could flock to Paul.
"If Hillary Clinton is the only choice Democrats have because of what they term as her 'inevitability,' where do you go if you're an independent, and you want to send a message?" asked Arnie Arnesen, the host of the New Hampshire talk show 'Political Chowder,' in a Thursday interview with the Huffington Post. "I am beginning to believe that there's a real sense of change moving with who's supporting Ron Paul because people think he's speaking truth and becaue of his libertarianism. People are looking for someone with a clear voice, and if you're an independent and angry about the war, there's only one place to go."
While Paul's September and October poll numbers have not markedly changed, the candidate saw a significant uptick in donations to Paul's campaign from the state, around $54,000, second only to Mitt Romney's approximately $85,000. Another New Hampshire political watcher said this fact in itself was a bright spot for Paul.
"He's raised quite a bit within New Hampshire, which is unusual because most tend to spend here and raise somewhere else," said Andrew E. Smith, an assistant professor at the University of New Hampshire who runs the school's Survey Center. "He's polling pretty well, at 4% at the end of September, and that isn't bad given that he's essentially unknown."
Smith said he agreed Arnesen's proposed scenario for a Paul victory in the Republican primary was possible, but only as an "outside chance." He argued that Paul still must persuade Republican voters to come to his side, and they could be dissuaded by his anti-war position.
"His opposition to the war hurts him because in New Hampshire, 79% of Republicans support the US going to war in Iraq, and so he does not have a big base to work from," Smith explained. "If his name gets better known, and we see more stories in press, then more of the other candidates will attack him on the war, and that will not sit well with Republicans."
And Arnesen warned that Paul wasn't doing enough to build on the momentum he has gained. The candidate has one staffer working in New Hampshire, and hasn't spent as much time in the state as other candidates. She reflected on how Pat Buchanan succeeded in winning the state's primary in 1996.
"Pat Buchanan lived in New Hampshire, he used the free media strategy like it was nobody's business," she noted. "Ron Paul is a congressman, and so he doesn't spend a lot of time here like he should. If he spent a little more time here, you might watch things change. He could actually make a huge imprint on New Hampshire."
But Paul's ability to make a big impact in New Hampshire could be disrupted by the primary wars that are making the coming presidential election cycle so unpredictable. New Hampshire's Secretary of State has been threatening to hold the state's primary in December 2007 for the first time. And some are saying that party officials in the state are not happy about it.
The Atlantic's Marc Ambinder with Mike Memoli reported on Thursday that state Democratic and Republican Party leaders are contemplating abandoning the primary and holding small party-directed caucuses to elect delegates for the 2008 national conventions. And if Paul will have to rely on undeclared voters to succeed, the neutering of New Hampshire's primary would affect him disproportionately.
Paul's campaign did not reply to requests for comment on the possibility. But the University of New Hampshire's Smith said Paul shouldn't worry too much.
"The likelihood of something like that happening is zero," he quipped.