Las Vegas, Nevada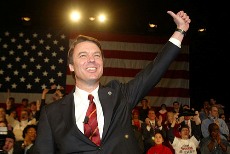 John Edwards blasted though Sin City this weekend as part of his revved-up effort to line up last minute support from organized labor less than three months out from the first primary caucuses.
And he's having some significant success.
Speaking to a boisterous crowd of unionized Vegas carpenters this weekend, Edwards pumped up his populist themes deriding his Democratic rivals as nothing more than "corporate Democrats." He also blasted away at free trade agreements like NAFTA which was a hallmark achievement of a former President with the last name of Clinton. And while he was at it, the third-running candidate took a direct shot at Hillary Clinton's failed health care initiative of the early 90's:
"In the 1990s, we didn't get universal health care, which we needed. We got NAFTA which we didn't need," Edwards told the rowdy crowd of union carpenters. "I think we've been asking the wrong questions about these proposed trade deals. The question seems to have been, 'Is this trade deal good for the profits of big multinational corporations?' ... The question of my administration will be, 'Is this trade deal good for jobs and for working, middle-class America?'"
Edwards had already picked up the endorsement of the Carpenters Union but while in Vegas he also had a closed door meeting with state reps of the powerful Service Employees International Union. Edwards would like to add Nevada to the collection of a dozen other SEIU state councils that have pledged their support for his campaign. Earlier this month the national SEIU left the endorsement question to individual state chapters.
Last last week, the 650,000 member California SEIU, representing a broad array of workers from nurses to janitors to government clerks, gave him the endorsement nod,.
Edwards' campaign strategists have been banking on labor support to fuel his run. They suffered a great disappointment when Edwards failed to garner the 60% of delegates votes at a national meeting that would have secured a unified SEIU endorsement.
But the endorsement from the 12 state councils he has so far picked up totals more than half of the union's 1.9 million national membership.
Here in Nevada the brass ring for any candidate is the mighty Culinary Workers Local 226 which represents tens of thousands of Vegas hotel workers. Currently involved in volatile contract talks with casino corporations, the union local is balking on any formal endorsement. The union is putting heavy demands on each candidate to help out with the contract drive and is holding up its final endorsement as a carrot.