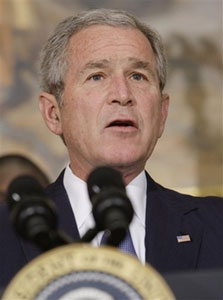 Dusting off his strategy from the previous showdown over Iraq war spending, President Bush has begun a public campaign to pressure Congress to quickly take up his "emergency" request.
Bush claims U.S. soldiers will suffer if the money isn't passed in time for the holidays. But senior congressional Democrats who oversee war funding don't believe the hype.
Staff for two top Democratic appropriators tell the Huffington Post that there's no need to bring up the additional funding for the troops until spring 2008.
"We've made it clear to the leadership that we plan to take up the President's supplemental request next year, and we're looking toward February," said Matthew Mazonkey, a spokesman to Rep. John Murtha, who chairs the powerful House Defense Appropriations Subcommittee.
"If we finish the main Defense appropriations bill on schedule," he added, "the troops will be provided for until March."
Staff for Rep. Norm Dicks (D-WA), who sits with Murtha on the committee, agreed.
"We're probably not going to do the supplemental right now," said George Behan, Dicks' chief of staff. "We expect to finish the appropriations bill, so the Defense Department has the money to work with, and it's not like anyone can say we're cutting off the troops."
The statements of the two Democratic budget-makers fly in the face of the president's insistence that the supplemental budget needs to be completed hastily, and that Congress "should not go home for the holidays while our troops are still waiting for the funds they need."
During a White House press conference Monday, President Bush had pushed out a supplemental budget request on Monday to add $46 billion to his supplementary budget request pending before Congress. The President's latest request brings the total "emergency spending" planned for the Iraq War in 2008 up to $196 billion.
FOLLOW HUFFPOST