Sen. Chris Dodd (D-CT), whose candidacy has been galvanized in recent weeks by net roots support, will face a major new test this Sunday, the Huffington Post has learned: a full-hour feature appearance on NBC's Meet The Press.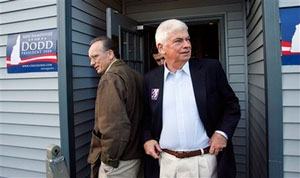 Dodd's appearance is part of an ongoing series of one-on-one sit downs between host Tim Russert and the presidential candidates. But it represents a fortuitous opportunity for Dodd, who's enjoyed a recent surge of support after he responded to calls from bloggers to take "a bold stand" on new warrantless surveillance legislation.
Dodd has vowed to filibuster any bill that gives retroactive immunity to the telecoms that participated in the Bush administration's wiretaps, and the net roots have showed their appreciation with "small-dollar" donations and vocal support. Now, Dodd will have the chance to take his case out of the blogosphere and put it before an even larger audience.