Ahmad Chalabi Returns As Press Snoozes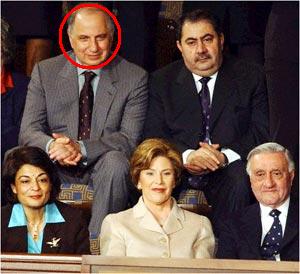 Just in time for Halloween, one of our favorite Iraq war zombies has shambled back into view. Ahmad Chalabi is the one-time darling of the Bush administration -- hailed as the "George Washington of Iraq," afforded great seats at the 2004 State of the Union Address, he was paid a king's ransom to funnel dubious intel to the White House, only to end up disgraced after disclosing "to an Iranian official that the United States had broken the secret communications code of Iran's intelligence service, betraying one of Washington's most valuable sources of information about Iran."
By June of 2004, President Bush was furiously straining credulity in an effort to distance himself from Chalabi, telling a Rose Garden-gathered gaggle:
My meetings with him were very brief. I mean, I think I met with him at the State of the Union and just kind of working through the rope line, and he might have come with a group of leaders. But I haven't had any extensive conversations with him.
Yeah, so, Chalabi -- just a minor figure of no real import! Except that minor figure of no real import has been tasked with overseeing a fairly vital piece of business in Iraq. As McClatchy's Nancy Youssef reports:


His latest job: To press Iraq's central government to use early security gains from the surge to deliver better electricity, health, education and local security services to Baghdad neighborhoods. That's the next phase of the surge plan. Until now, the U.S. military, various militias, insurgents and some U.S. backed groups have provided those services without great success.
You might imagine that the return of such a controversial figure to a position of critical prominence would be worth noting by the press. But, outside of the aforementioned Ms. Youssef (whose editors, refreshingly, allow her to come right out and state simple facts, like, "Chalabi, in the run-up to the U.S.-led invasion of Iraq in March 2003, provided White House and Pentagon officials and journalists with a stream of bogus or exaggerated intelligence about Iraq's weapons programs and ties to terrorism."), you'd be wrong! Dan Froomkin gives Youssef's article brief mention in his "White House Watch" column, but there's otherwise nothing in the Washington Post about the story. The New York Times and USA Today, along with CNN, Fox and MSNBC pay the news no heed at all.
Odd? Not when you consider that we're talking about the same media organs were largely bamboozled by Chalabi along with Bush. And not when you consider that we're talking about the same media that largely snoozed when the President was attempting to deny knowing the man. Once bitten, twice shy.