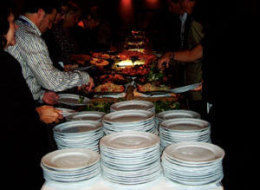 Business conferences are hardly known for their comestibles, but the good folks behind the American Magazine Conference managed to pull together a tasty three-day spread for its 500 plus attendees. (What, you were expecting more panel coverage?) Appealing to their guests' inner media snobs, the outdoor Sunday night buffet dinner featured the signature burger and truffle fries of John DeLucie, Executive Chef of Graydon Carter's uber-exclusive Waverly Inn. The high-end dish, which normally sells for $13, was made available to the masses for one night only, and tasted... pretty good. The experience, unfortunately, was occluded by the burger's DIY presentation in a metal serving pan in the buffet line; even caviar loses its posh factor when served in huge vats. (Cold truffle fries, however, i can eat all day.) Standard picnic-y fare, including salads, chicken skewers, barbecue ribs, and baked potatoes, rounded out the options.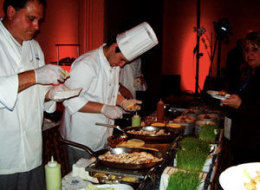 Monday night, AMC attendees tasted the culinary wares of celeb chef Rocco DiSpirito, Lucinda Scala Quinn, VP and Editorial Director of Food and Entertaining at Martha Stewart Living, and Billy Strynkowski, executive chef of Cooking Light at the Boca Raton Resort & Club's pool tower, while crazy gale-force winds (thanks, tropical storm Noel) blew outside. Each chef was set up in a different corner of the room, with a different culinary focus. Chef Strynkowski focused on seafood, dishing up seared scallops and tangy mahi-mahi tacos, while Quinn put out lighter fare, including a flavorful brussel sprout salad, apple tarts, green beans, and more. Meanwhile, at DiSpirito's station, the reality star signed free copies of his new book for patrons, while his staff doled out lamb chops with a white bean topping and tuna tartare.
But the highlight of the evening was the dessert station set up on stage. Mini-cakes, creme brules, profiteroles, chocolates, fruit tarts... all were present and accounted for, and all ended up in the tummies of myself and ETP editrix Rachel Sklar.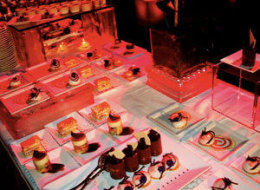 Lunches on both days, were far less starry affairs. A roasted key lime and herb-crusted salmon was paired with Chrysler CEO Robert Nardelli's keynote, and grilled ancho-honey glazed breast of chicken was offered up at Edible Communities CEO Tracey Ryder's speech on Sunday. And in a nice final touch, the hotel sent off all Tuesday departees with a school lunch-esque cooler, carefully packed with half a prosciutto sandwich and half a turkey sandwich (if you opted for the meat version, that is), chips, fruit, cookies, and water as they departed for home. Bon appetit, magsters!

SUBSCRIBE TO & FOLLOW THE MORNING EMAIL
Start your workday the right way with the news that matters most. Learn more