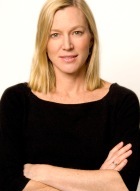 A scoop for TVNewser today: Author and writer Lee Woodruff, wife of ABC anchor/correspondent Bob Woodruff and co-author with him on their book about his devastating injury in Iraq, "In An Instant," is joining "Good Morning America" as life-and-family contributor — officially announced to the public by GMA senior EP Jim Murphy and by a press release. For those who look to TVNewser and/or official press releases for such announcements, today was the day the news dropped. However, for those who knew that Woodruff was also a HuffPo contributor, an early preview was available in her bio:
In the fall of 2007, Woodruff will join ABC's Good Morning America as a contributing editor on a variety of home and family related topics. She is currently working on a second book.
For those of us who have been aware of and reading Woodruff's blog posts for months now, we're a little abashed. Oops! Moral of the story: There are nuggets of goodness in every nook and cranny of HuffPo. Yeah, that's right. Either way, according to ABC, Woodruff will be on this week (we think maybe even tomorrow), and expect to see more press generated around her in advance of next week's star-studded gala, "Stand Up For Heroes," to benefit the Bob Woodruff Family Fund and which will be hosted by Conan O'Brien, will feature performances from Bruce Springsteen, Robin Williams and Lewis Black, and is being hosted at various levels by a truly ridiculous number of boldfacers (see here). Woodruff was previously on the program with Bob on the release of their book, discussing Bob's injury and recovery.
SUBSCRIBE AND FOLLOW
Get top stories and blog posts emailed to me each day. Newsletters may offer personalized content or advertisements.
Learn more