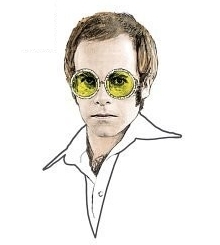 Ladies and gentlemen, we stand corrected! At the end of yesterday's "NBC Nightly News" there was a song that was not the usual swelling theme music, and
we guessed
that it was either
Elton John
's "
Don't Go Breaking My Heart
" or the Pointer Sisters' "
Jump For My Love
," neither of which made sense. What does make sense: The
actual
song used: "
Philadelphia Freedom
," also by Elton John so we were on the right track. We were corrected by no less an authority than NBC News President
Steve Capus
— an authority on news, sure, but more importantly a former DJ who pointed out that he used to "rock Bucks County, PA with a radio show."* Aw! Shout-out from a homeboy! Actually, Capus points to "Nightly" director
Brett Holey
for that one (we know it's wasn't BriWi because it wasn't
Cat Power, Interpol or Feist
). Either way, a touching tribute to the debate host city...and, Capus informs us, also to
Billie Jean King
. For reals! Here we need to quote:
Elton dedicated it to Billy Jean King! She happened to be the captain of the Philadelphia pro tennis team, the Philadelphia Freedoms (r.i.p.). Who could ever forget the 1974 tennis champsionship tourney in which the Freedoms lost to the Denver RAQUETS?!. I'm not making this up.
Er, we don't think you could make that up. Capus also informs us that he has the 45 rpm of the song "at home in a box in the basement" — yet another sign that our long-hoped-for "MSNBC Late-Night Dance Party" is as inevitable as Hillary Clinton (another woman who has some experience smashing back volleys from male competitors). Lyrics below — helpfully provided by Capus, who takes this music thing very seriously, so much so, that he's earned his very own nickname: DJ Jazzy SteCap! That's as catchy as BriWi, eh? NBC News peeps, you are hereby encouraged to address him as such, especially during contract negotiations. Nicknames make bosses less scary! Never mind that it's a freaking gravitas parade over there right now. In other news, standby for our post about Charlie Gibson beat-boxing. Any day now!
I used to be a rolling stone
You know if the cause was right
I'd leave to find the answer on the road
I used to be a heart beating for someone
But the times have changed
The less I say the more my work gets done
`Cause I live and breathe this Philadelphia freedom
From the day that I was born I've waved the flag
Philadelphia freedom took me knee-high to a man
Yeah gave me peace of mind my daddy never had
Oh Philadelphia freedom shine on me, I love you
Shine a light through the eyes of the ones left behind
Shine a light shine a light
Shine a light won't you shine a light
Philadelphia freedom I love you, yes I do
If you choose to you can live your life alone
Some people choose the city
Some others choose the good old family home
I like living easy without family ties
Till the whippoorwill of freedom zapped me
Right between the eyes
p.s. The songs are linked to sound clips above, and as it turns out, "Jump For My Love" wasn't the best call. But to be fair, they used the intro, not the "shine the light" part, which might have tipped us off. Ish. (Okay, fine. I had no clue. I just hate missing musical cues. And I really thought it was Kiki Dee!)
p.p.s. Funfact: Capus also used to DJ in Oskarshamn, Sweden (which any ETP reader knows is the apple of Småland's eye), where apparently he skewed heavily toward Frank Zappa. And everyone knows it's just a hop skip and a jump from Frank Zappa to ABBA!