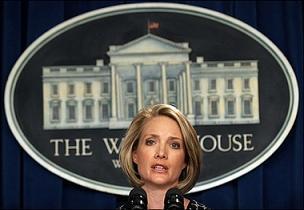 Good news, everyone! After a few days of being harangued about how maybe he should respond to the crisis in Pakistan by picking up the phone and talking directly with Pervez Musharraf - our key ally in the War on Terror - President Bush has done exactly that. What was said during that phone call? Here's Dana Perino's take:
Q Do you have more of a readout on yesterday's conversation with Musharraf?

MS. PERINO: The President called President Musharraf around 11:15 a.m. yesterday morning. They spoke for several minutes, and what I can tell you is that President Musharraf listened carefully to what the President had to say and heard his message.

Q You don't have any reaction from Musharraf at all to what the President said?
No? Oh, well, allow us to fill you in, Dana!
...Pakistan's foreign ministry presented a different version of Mr Bush's 20-minute conversation with Gen Musharraf, a key US ally in its war on terrorism.

"President Bush praised President Pervez Musharraf's leadership and Pakistan's critical role in fighting terrorism and extremism, which posed a grave challenge not only to Pakistan but the world," it said in a statement.

The ministry admitted that Mr Bush "mentioned about US concerns over return to civilian democratic rule and early elections as had been originally planned by the president".

But it said that the US president "showed understanding when the president informed him about the difficult circumstances that led to the proclamation of emergency in the country."
That's just one interesting discrepancy, however:
PERINO: The uniform is still an issue. The President called on him to take it off; he said, you can't be both the President and the head of the army.
He did, huh? I guess that means the President won't be donning a flight suit and standing in front of a banner that reads "FIRM MESSAGE RECEIVED" anytime soon.
FOLLOW HUFFPOST