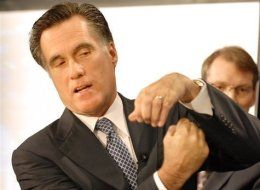 Mitt Romney announced last night that he would attend a debate broadcast in Spanish on the Univision network. The December 9 debate follows an earlier event that was canceled in September after only Senator John McCain and Rep. Duncan Hunter agreed to participate. Fred Thompson and Rudy Giuliani will also join the newly rescheduled debate.
Some pundits have already speculated that the Republican frontrunners would climb down from their fierce anti-illegal immigration positions to steady the waters they'll be heading into in Miami. Take Simon Rosenberg, head of the New Democrat Network, who wrote, "There is simply no way to read this action as anything but a national repudiation of their extreme anti-immigrant strategy of recent years, and a desperate attempt to beg the Hispanic community for forgiveness."
But if Mitt Romney's new TV commercial released this morning is any evidence, he's trying his best to send a message of tough love, or no love at all:
"We all know Hillary Clinton and the Democrats have it wrong on illegal immigration.

"Our party should not make that mistake. [...]

"As President, I'll oppose amnesty, cut funding for sanctuary cities and secure our borders.
The 30 second spot is running in Iowa and New Hampshire.
SUBSCRIBE TO & FOLLOW POLITICS
How will Trump's administration impact you? Learn more