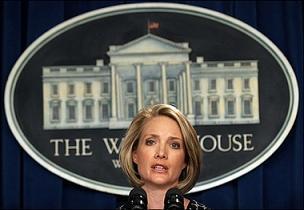 In today's press gaggle, Dana Perino had some ominous words for the people of Guatemala and their new President-elect, Alvaro Colom:
At 9:50 a.m. today, the President called the President of Guatemala. That was from -- I'm sorry, President-elect of Guatemala -- President-elect Colom of Guatemala to offer him congratulations on winning the election on November 4th, after a spirited campaign. The President said he watched it closely, and he called to congratulate him on a great victory. The President said he wants to work closely with President Colom to expand on the good relationship between our two countries, especially on President-elect Colom's pledge to alleviate poverty, improve social justice, and have an open society. The President said he looks forward to working with him and to seeing him after he is sworn in.
Yeah. Based upon the President's track record in alleviating poverty, fostering social justice, and opening society, we'd recommend President-elect Colom start screening his calls.
SUBSCRIBE TO & FOLLOW POLITICS
How will Trump's administration impact you? Learn more