The tabloids have been hitting Rachael Ray hard for a while now, speculating on her unhealthy marriage to John Cusimano. For example, this National Enquirer cover (from almost a year ago):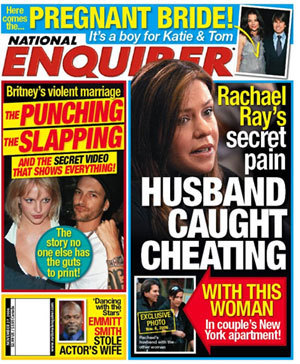 From imnotobsessedcom
Today, with The Insider's Lara Spencer on her show, Rachael used the opportunity to address those rumors for the first time and to speak out against the tabloids.
"I wanna dish about tabloids," she opened, "cause they are really killing me." She went on to account all of the rumors that have been swirling around lately, before finally declaring,
John and I are happily, grotesquely, blissfully married. We have always been happy together since the day we met 8 years ago. I love him desperately and I would never be stupid enough to give up free legal advice, a rock star, and a great cook, and handsome guy at that....All of that junk is just that junk and they won't stop printing it until people stop buying it.
Watch:
From ABC, 11/16