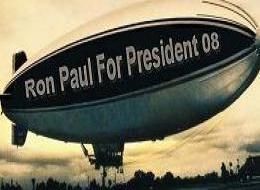 The Ron Paul campaign is still looking formidable in the early primary states - our Off The Bus crew are impressed with his Iowa operation, and George Will is predicting a double-digit showing in New Hampshire. Now, the Paul campaign is set to couple their ground-game with air war. That's right, folks: the Ron Paul Blimp is a go! Prepare to get MESMERIZED, Wolf Blitzer!
Here's a brief summary of the Blimp's flight plan. According to the Ron Paul Blimp website, even now, supporters are gathering in Elizabeth City, NC. Tomorrow, there will be a Blimp Rally. Sunday, there will be a "Prelaunch Rally." Monday, there will be a "Prelaunch Ceremony." That's three days of blimp foreplay!
The legality of this high flying venture seems dubious at best. First of all, Paul's zealous supporters have set up a for-profit corporation called Liberty Political Advertising LLC to raise money for the blimp in an effort to skirt campaign contribution laws. Individuals are limited by law to giving $2,300 to a presidential campaign, but RonPaulBlimp.com is encouraging people to donate anywhere from $10 to $1 million in support of the blimp advertising campaign. Not to mention, we have a hard time believing the blimp has been cleared to enter restricted Washington, D.C. airspace.
Concerns noted, but we'll add that chances are, most DCers will be way too busy loudly talking about their careers and trying to impress each other to notice a blimp.
Eventually, the Blimp will make its way to Boston, and, continuing with a tradition established in their celebration of Guy Fawkes Day, will continue to stick it to pre-18th century England by dumping tea into Boston Harbor! How will they pull that off? Not even the Paul supporters are sure. Via declared-enemy-of-all-things-Ron-Paul Wonkette, we learn that no decision has been made on whether the tea will be dropped in the form of tea bags or poured from the Ron Paul Teapot.
Furthermore, at least one Paulite - in a rare moment where consideration for others trumps unhinged, graven-image-carving idolatry - wonders, "...don't we run the risk of pissing people off by doing this, especially the locals?" Well, considering those locals recently made national news by collectively freaking out over a few Lite-Brites, you have imagine that the Ron Paul Blimp's tea dumping could touch off one gigantic citywide paroxysm of relentless, animal terror.
Anyway, if you would like to take to skies with Ron Paul, a $5000 donation entitles you to spend "3 days/18 hours" on board. A word of warning: the Ron Paul Blimp site says, "The blimp is very social. It wants to get its picture taken with every candidate in the race, and will be attending a lot of their functions."
That's right. Apparently, they think their blimp is alive!
FOLLOW HUFFPOST