Greetings from SoHo-Ho, and the HuffPost holiday party, where the festive tunes are a-blastin', the cups are a fillin', the lords are a-leapin', and the sweaters are a-clinkin'! Together the HuffPost staffers of all stripes have gathered to make merry and toast one another for this incredible year... and we have YOU to thank for it, readers and bloggers alike! Thank you so much for joining in this great experiment with us. Over 1800 bloggers later with five great sections --Politics, Media, Business, Entertainment and Living --plus our little sparkling jewels Eat The Press, HuffPolitics and OffTheBus-- we think it's working pretty well. Right now, as Wham! blasts in the background (Lil' Drummer Boy on deck, yo) we're giving our hearts to someone special... you. Thank you for a wonderful year of reading, commenting, contributing, and helping to put the "holiday" in "HuffPost" every day! Yeah, there's not really "holiday" in "HuffPost," but when you run the site, you can pretty much do what you want. Okay -- someone's about to start the Soulja Boy Dance and we can't miss it! Have a wonderful holiday, and if you're in SoHo, come upstairs and help us finish the cookies! That's a joke, of course; food has a way of disappearing around here. Happy holidays.
(P.S. We're all outfitted in our brand-new super stylish Adam Lippes sweaters... thanks Arianna!)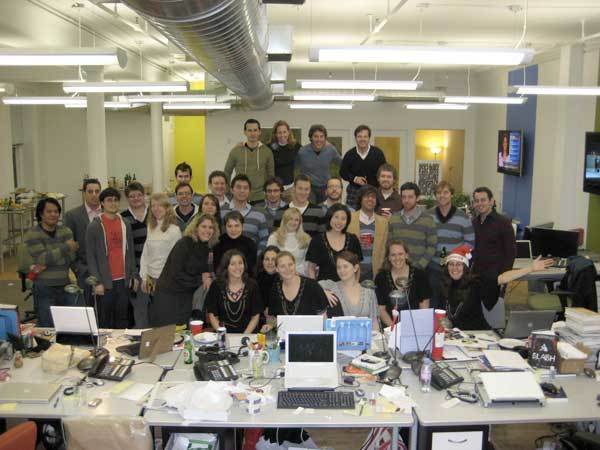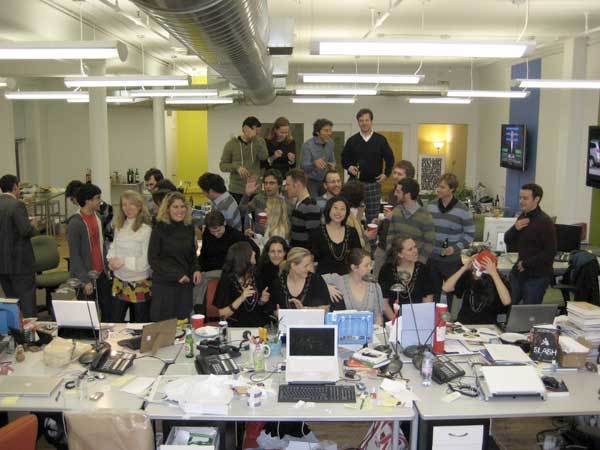 SUBSCRIBE AND FOLLOW
Get top stories and blog posts emailed to me each day. Newsletters may offer personalized content or advertisements.
Learn more