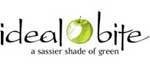 Click here to sign up for a daily Ideal Bite tip.
The Bite:
Use cloth napkins religiously. You'll save trees and add a touch of class to your tabletop--even if sinful foods like Cheez Whiz are what's on the menu.
Benefits:
* Paper savings. Americans use an average of 2,200 paper napkins per person per year.
* Elegance, that is, if you don't use your napkin to blow your nose.
* Cash savings. It's actually cheaper to throw cloth napkins in the wash than to buy paper ones. Amen to that!
Personally Speaking

Ideal Bite's Senior Editor Jenifer Morgan can fold cloth napkins into different animal shapes, à la origami. However, she shows off this secret talent only during Quinceañeras and National Bird Day celebrations.
Wanna Try?
* Transylvanian Images Vintage Napkins - off-white hemp-cotton blend; hand-spun and vampire-free ($40/set of 4).
* Fiberactive Quilt Company Organic Cotton Napkins - made by laid-off textile workers in North Carolina, in 11 fab colors ($32/set of 4).
* Global Exchange Balinese Cotton Napkin Set - fair-trade, produced by a women's co-op in Indonesia, in red or green ($23/set of 4).
This post originally appeared on IdealBite.org. Founded by Jen Boulden and Heather Stephenson in 2005, Ideal Bite offers bite-sized ideas for light-green living. Easy eco-living tips are presented in short, sassy, and free emails that are delivered to more than 160,000 subscribers each weekday. Ideal Bite's mission is to create a more sustainable world through incremental environmentalism, small changes that truly add up.