For winter-ready Iowans, tonight's Orange Bowl game could be a bigger deterrent to caucus attendance than potentially bad weather.
Recent studies have shown that cold weather has deterred voters in the past. But so far the forecasts throughout Iowa range in the twenties with sunny skies, nothing out of the ordinary for a state used to cold winds ripping through its plains.
The bigger couch draw will most likely be the Orange Bowl. The game attracts millions of television viewers each year. It could have even greater ratings this time because emotionally wounded Virginia Tech is competing against Kansas State.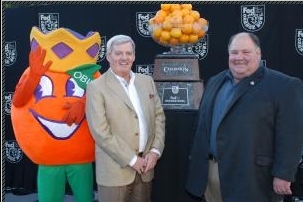 If you think weather will still be a factor tonight then keep checking the Iowa temperature's here. Or you can wait for the viewer ratings to come out for the Orange Bowl.

SUBSCRIBE AND FOLLOW
Get top stories and blog posts emailed to me each day. Newsletters may offer personalized content or advertisements.
Learn more