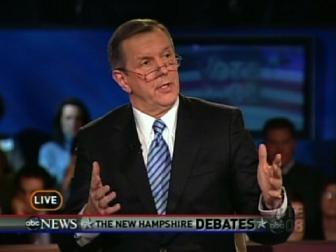 ABC's Charlie Gibson kicked off last week's New Hampshire primary coverage on a high after hosting the back-to-back GOP and Dem debates — which pulled in millions of primetime viewers and promptly became the first and second most-watched debates of this election cycle. Gibson's avuncular, intimate style suited the sit-down roundtable setting, and his mid-point candidate group-hug between parties ended up being a surprisingly winning moment (just don't call it "corny," okay, Howie Kurtz?). ABC pulled in 9.36 million total viewers for the Democratic candidates and 7.35 million for the GOP — a great night for Gibson and ABC, and one which seemed to have positioned them well going into an exciting week of political coverage.
Alas, winning that battle did not help Gibson win the war — the ratings war, that is, between ABC's #1 Newscast (for 2007) and NBC's #1 Newscast (currently) (we know they are both #1 because each of them have advertised themselves as such during recent programs). Last week, "NBC Nightly News" with Brian Williams won both the week and the demo, with 9.67 million total viewers to ABC's 9.28 million, with CBS a distant third at 6.86 million (NBC took 3.09 million in the demo, to ABC's much-closer 2.9 mil and CBS 2.24 mil).
But closer look indicates that maybe the debates really did give Gibson that bounce. Gibson was up 280,000 from the previous week, while Williams was down 140,000 and Couric was down 190,000. Perhaps Gibson siphoned off votes thanks to his Saturday night debate coverage, or perhaps viewers are as changeable as a New Hampshire voter mad about Chris Matthews making Hillary Clinton cry.
SUBSCRIBE TO & FOLLOW THE MORNING EMAIL
Start your workday the right way with the news that matters most. Learn more