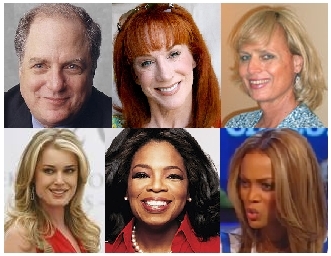 Nominations for this year's GLAAD Media Awards were announced at Sundance this evening, and the New York Times, LA Times, Newsweek, CNN, Oprah, Tyra, and the San Francisco Chronicle each received multiple nominations. The definition of "media" is fairly expansive here, including movies, television shows, reality shows, theater, musicians and even comic books, which is how ABC leads the nominations with nine, including for Dirty Sexy Money and Ugly Betty and daytime soap All My Children, each of which address transgender issues.
In fact, material based on transgender issues has earned a number of nominations this year — most notably the work of columnist Christine Daniels in the LA Times, nominated as Outstanding Newspaper Columnist. Daniels received a fair bit of media attention in April 2007 as male sportswriter Mike Penner, who revealed in a surprising column that he was a transsexual male and would be undergoing a sex-change operation. Penner returned to the LAT — and her sports column — as Christine Daniels after the surgery and now blogs about her transition on the blog, "A Woman In Progress." Similarly-themed articles in Newsweek, the St. Petersburg Times, and Salon and on TV on MSNBC, the Tyra Banks and Oprah Winfrey shows, 20/20 and the now-defunct Paula Zahn Live on CNN were also honored.
CNN received four nominations all in the "Outstanding TV Journalism - News Segment" category (which it will win unless Good Morning America beats it four times over), and both the NYT and the LAT were nominated for Outstanding Newspaper Article, Outstanding Newspaper Columnist, and Outstanding Newspaper Overall Coverage. The NYT's Frank Rich is a frequent columnist nominee, having won last year and in 2005. CosmoGirl!, Us Weekly, Newsweek, Entertainment Weekly and The Advocate were nominated for their magazine coverage overall; best newspaper coverage nominees are the NYT, LAT, San Francisco Chronicle and Boston Globe. Other nominees include Desperate Housewives, Brothers & Sisters, The Sarah Silverman Show, Project Runway and Kathy Griffin's My Life on the D List.
Gay-themed media outlets like The Advocate and Logo were also nominated for their coverage — for the first time, since this is the first year that GLAAD has included such so-called "alternative" outlets for consideration. Previously, they were excluded in the name of not discouraging coverage by mainstream outlets; that changed this summer and the eligibility criteria were expanded. Logo received five nominations and The Advocate received three.
List of media-related nominations after the jump; a full list of the nominees may be found here.
Media-related nominations:
TV Journalism - News Segment
"The First Casualty" Anderson Cooper 360 (CNN)
"Gay Homeless Teens" Uncovering America (CNN)
"Gospel of Inclusion" Uncovering America (CNN)
"Sent Away to 'Change'" Good Morning America (ABC)
"Sex Change Controversy" Paula Zahn Now (CNN)

Newspaper Article
"Aging and Gay, and Facing Prejudice in Twilight" by Jane Gross (The New York Times)
"Girl/Boy Interrupted" by Lauren Smiley (SF Weekly)
"In a Progressive State, a City Where Gay Life Hangs by a Thread" by Andrew Jacobs (The New York Times)
"Line in Sand for Same-Sex Couples" by Teresa Watanabe (Los Angeles Times)
"What the Heart Wants" by Lane DeGregory (St. Petersburg Times)

Newspaper Columnist
Christine Daniels (Los Angeles Times)
Alfred Doblin (The Record [Bergen, NJ])
Mark Morford (San Francisco Chronicle)
Frank Rich (The New York Times)
Rebecca Walsh (The Salt Lake Tribune)

Newspaper Overall Coverage
The Boston Globe
Los Angeles Times
The New York Times
The Seattle Times
San Francisco Chronicle

Magazine Article
"Akinola's Power Play" by Kerry Eleveld (The Advocate)
"Dying to Come Out: The War on Gays in Iraq" by David France (GQ)
"The Kingdom in the Closet" by Nadya Labi (The Atlantic Monthly)
"(Rethinking) Gender" by Debra Rosenberg (Newsweek)
"Special Report: Gays at War" by Marc Haeringer, William Henderson, Michael Rowe, Corey Scholibo, and Bernice Yeung (The Advocate)

Magazine Overall Coverage
The Advocate
CosmoGIRL!
Entertainment Weekly
Newsweek
Us Weekly

Digital Journalism Article
"Gay Newsmen - A Clearer Picture" by James Hillis (AfterElton.com)
"Gender and the Pulpit" by Lauren McCauley (Newsweek.com)
"Officially 'I Do'" by Tracy Stokes (BET.com)
"Oregon State Coach Fulfills Dream of Becoming Father" by Graham Hays (ESPN.com)
"Why the T in LGBT is Here to Stay" by Susan Stryker (Salon.com)

Digital Journalism - Multimedia
"The Advocate 40th Anniversary'" (Advocate.com)
"Fuera del Closet: Gay Hispanic Immigrants in Dallas" by Sergio Chapa (NewAmericaMedia.org)
"Landmark Moments in Gay Hollywood" by Mark S. Luckle (EW.com)
"Uncovering America: Fighting for Acceptance" (CNN.com)

Talk Show Episode
"Born in the Wrong Body" The Oprah Winfrey Show (syndicated)
"Gay Around the World" The Oprah Winfrey Show (syndicated)
"Gay Athletes & Rappers: It's Not In to be Out" The Tyra Banks Show (syndicated)
"Growing Up Intersex" The Oprah Winfrey Show (syndicated)
"Transgender Kids" The Tyra Banks Show (syndicated)

TV Journalism - Newsmagazine
Born in the Wrong Body (MSNBC)
"A Church Divided" In the Life (PBS)
"Don't Ask Don't Tell" 60 Minutes (CBS)
"My Secret Self: A Story of Transgender Children" 20/20 (ABC)
"A Royal Scandal" Primetime: Family Secrets (ABC)
Related Nominations:

Documentary
Camp Out (Logo)
Cruel and Unusual: Transgender Women in Prison (WE tv)
For the Bible Tells Me So (First Run Features)
Freddie Mercury: Magic Remixed (VH1/Logo)
Small Town Gay Bar (Logo)

Reality Program
"Chase/Lane" Trading Spouses (Fox)
Kathy Griffin: My Life on the D-List (Bravo)
Project Runway (Bravo)
Who Wants to Be a Superhero? (SciFi Channel)
Work Out (Bravo)

Film - Wide Release
Across the Universe (Revolution Studios)
The Jane Austen Book Club (Sony Pictures Classics)
Stardust (Paramount Pictures)

Film - Limited Release
The Bubble (Strand Releasing)
Dirty Laundry (Codeblack Entertainment)
Itty Bitty Titty Committee (Pocket Releasing)
Nina's Heavenly Delights (Regent Releasing)
Whole New Thing (Picture This! Entertainment)

Drama Series
Brothers & Sisters (ABC)
Degrassi: The Next Generation (The N)
Dirty Sexy Money (ABC)
Greek (ABC Family)
The L Word (Showtime)

Comedy Series
Desperate Housewives (ABC)
Exes and Ohs (Logo)
The Sarah Silverman Program (Comedy Central)
Ugly Betty (ABC)
The War at Home (Fox)

Individual Episode (in a series w/o a regular LGBT character)
"Boy Crazy" Cold Case (CBS)
"Do Tell" Boston Legal (ABC)
"Free to Be You and Me" Kyle XY (ABC Family)
"The Gangs of Camden County" My Name is Earl (NBC)
"Sin" Law & Order: SVU (NBC)

Television Movie, Mini-Series or Anthology
Daphne (Logo)
The DL Chronicles (here!)
The State Within (BBC America)

Daily Drama
All My Children (ABC)
As The World Turns (CBS)
SUBSCRIBE AND FOLLOW
Get top stories and blog posts emailed to me each day. Newsletters may offer personalized content or advertisements.
Learn more