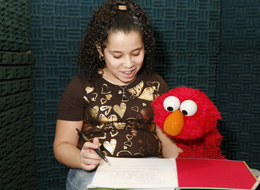 DEQUAN FOSTER: When you were growing up was there ever a mentor in your life that really had such a big difference?
KEVIN CLASH: Oh yeah. I had some really, really good teachers over the years in school. Mr. Riggs who was my drama teacher, I just honored him on a television special with Peter, Paul and Mary.
MR. FOSTER: Did you have someone that taught you a lesson that you still use today on an everyday basis?
MR. CLASH: Well, it always starts with your mom and dad telling you to listen, be careful and be respectful of others. However, my first mentor was Stu Kerr, a wonderful weatherman at a TV station in Baltimore. And, Stu taught me a lot when I was doing local television at the time. And then I came up here to New York, I met a wonderful person named Kermit Love. No association to that KERMIT! This Kermit was a wonderful designer and builder of puppet characters for a theatre. Kermit helped me get a meeting with Jim Henson. Jim was a wonderful mentor too.
MR. FOSTER: What really influenced you to become a puppeteer
MR. CLASH: There was a film festival show on Sundays. I think it was on CBS. It had this wonderful actress named Fran and it two puppets, Kukla and Ollie. They would host this film festival on the weekends and I would watch that. And of course, whenever Jim Henson's Muppets were on, I was always watching. They were on the Ed Sullivan show at the time -- you probably don't know about that.
DIAMANTE SUAREZ: Did you belong to a mentoring club like the Boys and Girls Club, which helped shaped you as a person?
MR. CLASH: I think school definitely does that. But also, we had a wonderful recreation hall. And of course church does that, too. But we had a wonderful recreation hall that I would go to that was within walking distance to where I lived. It had wonderful people who ran the facilities there and they really helped me. My first puppet show I did, I did it at the recreation hall. So that was a really nice place to go in the neighborhood where wonderful people that lived in the neighborhood tutored the kids in the neighborhood and taught them how to play sports and different things. That was kind of where everybody congregated and helped each other out.
MS. SUAREZ: Do you have any specific memories of how a mentor kept you out of trouble?
MR. CLASH: I was kind of a shy kid growing up so I really didn't get in that much trouble. Normally I was running around building puppets. But we always had, growing up we had some really cool people who looked out for all the kids in the neighborhood, the ones that were getting in trouble. We had a really, really close, close group of people that helped us in the neighborhood.
MS. SUAREZ: What or who inspired you to do the voice of Elmo?
MR. CLASH: Richard Hunt. Richard originated Forgetful Jones and Gladys the Cow on Sesame Street. He was the second one though, actually,to perform Elmo on the show. They were trying to figure out what to do with Elmo. Richard started doing it and he didn't like it. So I happened to be in the Muppet Room where we all hang out, all the puppeteers hang out. He brought Elmo in, threw it to me and told me to put it on. And I did. And he said come up with a voice and I did that little Falsetto voice. And he said okay, you can have the puppet and that's how I got it. So, no, he was definitely a mentor of all of us. He encouraged us and he gave us chances. I went through a lot of puppets on Sesame Street that didn't work. I thought I was going to get fired any day and fortunately I got this character and it hit.
MR. FOSTER: What would you say is your favorite episode out of all of them?
MR. CLASH: I think one of my favorite - it's not an episode we call them inserts - which is normally about two or three minutes with a celebrity. I think the one with Whoopi and Elmo.
MS. SUAREZ: Thank you for letting us interview you for National Mentoring Month and to Kaufman Astoria Studios for setting this up.
January is National Mentoring Month. Most successful people say they had mentors along the way who guided and encouraged them. The Harvard Mentoring Project has been conducting videotaped interviews and collecting written essays in which prominent people from various fields talk about their mentors. Who mentored you? --The Harvard Mentoring Project
SUBSCRIBE TO & FOLLOW LIFESTYLE
HuffPost Lifestyle is a daily newsletter that will make you happier and healthier — one email at a time. Learn more