Portfolio.com's Jeff Bercovici asked book publishing professionals whether there's a market for Ashley's story. The verdict? "It's unlikely, perhaps, but far from impossible," Bercovici wrote. He continued:
Two years ago, it would've been a no-brainer: Dupre would've signed with Judith Regan, the publisher of choice for every porn star, stripper or double-murderer with a memoir itch. But Regan's out of the business now, and "I don't know post-Judith who would buy this kind of book," says one agent.
According to Bercovici's sources, spurned wife Silda's tell-all would be a better sell:
Two agents separately said, unprompted, that a tell-all by the wronged wife is where the real money would be. Sighs one, "She could get one hell of an advance."
Radar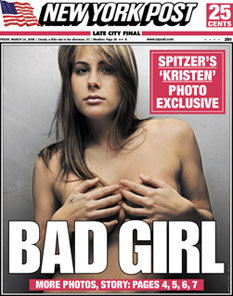 reports that Penthouse is interested in pictures of the woman behind Spitzer's sex scandal:
Penthouse publisher Diane Silberstein tells Radar that she'd be "very, very interested" in talking to anyone who had naked pics of Dupré, particularly if said pics were taken recently and of good quality. "We've already discussed some options--obviously, we'd be thrilled if we could land an exclusive," Silberstein says....When asked for a ballpark dollar amount the magazine would be willing to shell out, Silberstein said that any negotiation between the magazine and Dupré would be kept confidential.
A representative of Playboy told the Huffington Post, "We are not commenting on the Spitzer girl or what her photos would be worth at this time," though a source at the magazine reportedly told Radar that she could fetch somewhere in the "high six figures" for posing in the magazine.
Silicon Alley Insider notes that Ashley is already cashing in on some of her newfound fame. The price of her single on AmieStreet, a site that prices music based on popularity, shot from $0.34 yesterday to the site maximum of $0.98, and she promptly uploaded a second song overnight.
FOLLOW HUFFPOST