The New York Observer's Azi Paybarah posts a reader tip of a Doonesbury cartoon from a time when Bill Clinton was a "rock star" candidate of his own. The cartoon, seen below, calls to mind the same claims lobbied against the media during the 2008 campaign — namely, that journalists are "in the tank" for Barack Obama.
The cartoon shows a reporter talking to his editor about a story he had just filed on Bill Clinton.
REPORTER: The Clinton story? What's wrong with it?
EDITOR: What's wrong with it? "The campaign now purrs like a Porsche 911 Turbo."..."Clinton has the kind of traction that makes his election next fall a dead cinch. Kissed by the gods, the candidate seems ready for greatness. Get ready, Mt. Rushmore!"
REPORTER: I wrote that?
EDITOR: Dammit, Rick, you're the third reporter I've lost to Clinton this month!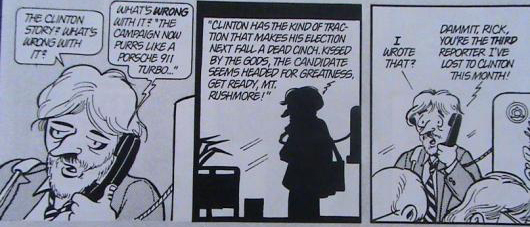 What do you think? Is history repeating itself in 16 short years?