In the tank? No doubt that's what some will be muttering after tonight's opening sketch on "Saturday Night Live" wherein Bill and Hillary Clinton are featured talking about their tax returns — and mocking the media for making a big deal about their $109 million income, most of which was very public between their two bestselling books and his speaking fees. "Once again, through dogged research and tireless investigation, the press has done its job," said Amy Poehler as Hillary with her trademark smug smile. "We made it hard for them to find out that we were rich by hiding in our house in Westchester." They then drove the point home: "I tell you, when it was announced that I was paid $15 million to write my book, I prayed that no one in the press would read the papers that day," said Darrell Hammond as Bill. "And they didn't!"
Hmm. Seems that SNL, back on the air after a two-week hiatus, isn't too concerned about all those complaints about how the show was in the tank for Clinton when it wondered if the media was in the tank for Obama. Neither, it should be said, did the audience: When Poehler's Clinton said that she would step aside "in the best interest of the party," there were cheers and applause at the punchline: "Psych. That's never gonna happen." In the tank or just another night of Zeitgeisty political comedy? Watch and decide for yourself below:

Host Christopher Walken was as hilariously weird as usual (is that a demented stare or fixation on the cue cards?) and the musical guest was the band Panic at the Disco, which he seemed to like introducing. Former democratic presidential nominee Chris Dodd made a cameo appearance with his old friend, SNL producer Lorne Michaels — the two met met in Czechoslovakia almost two decades ago, along with Paul Simon, as part of an American delegation to supervise the first free Czech elections. From there it's apparently just a hop, skip and a jump to appearing on late-night TV in 3-D glasses.
We'll have more clips tomorrow but in until then, please enjoy these screengrabs of Dodd and Michaels, plus Walken as a creepy co-worker (think "Pranksters," but with hugs) about to stick his giant purple tongue into Jason Sudeikis' ear.
Update: Lots of video today, reflecting an unusually strong show (call it the "Walken bounce") — also added is "Meet the Family" where everyone gets to walk the Walk(en); Weekend Update's take on a recent HuffPo favorite, the Pregnant Man; and another crazy Kristen Wiig character who is very excited about a surprise party. Plus, the return of "Laser Cats," that SNL Digital Short cult favorite (at least in Andy Samberg and Bill Hader's minds). That's where you get to see Dodd in 3-D glasses.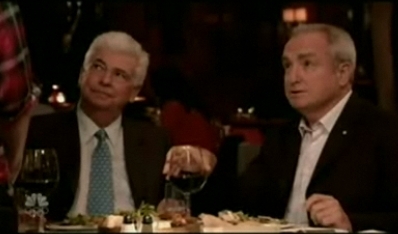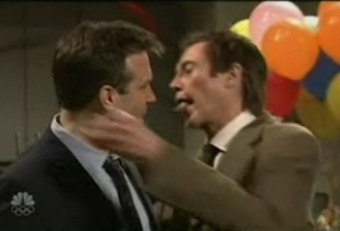 Related:
Paul Simon Stumps, Sings For Chris Dodd [ETP]
SNL's Campaign Trail: Fauxbama, Huckabee, And Tina Fey Endorsing Clinton [ETP]