Woody Harrelson cools off in the hot Florida sun with an impromptu skinny dip with actor friend Owen Wilson. The Natural Born Killers star, 46, has been hanging out with the Wedding Crashers actor, 39, in Miami while Wilson films his latest movie Marley & Me in the Sunshine State.
While Wilson seems content to bathe in his shorts, free spirit Harrelson strips off to his birthday suit as he leaps into the Atlantic.
Over the boiling weekend in Miami, where temperatures reached 30 degrees Celsius, the pair watched both the men's and ladies' singles finals at the Sony Ericsson Open in Key Biscayne.
On Saturday, the actors had front row seats to watch Serena Williams beat Serbia's Jelena Jankovic [seen here], and reclaimed their prime position on Sunday to see Russia's Nikolay Davydenko win against Spain's Rafael Nadal.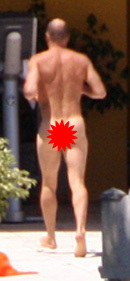 After spending hours under the blazing sun watching the centre court action, Harrelson couldn't wait to get back to his Miami waterfront home and rid himself of his sweaty clothing.
After enjoying a dip in Miami Bay, Harrelson climbed out of the Atlantic for a naked work-out on his private dock. As he hoisted himself out of the water, Harrelson showed his tan wasn't quite all over as he flashed his white backside. Despite his tan lines, the 46-year-old cut an impressive figure as he stretched and did press-ups in the nude.
Click through to the Daily Mail for the pictures of Woody Harrelson's skinny dip sequence. (NSFW, obviously)
SUBSCRIBE TO & FOLLOW ENTERTAINMENT
THE spot for your favorite fan theories and the best Netflix recs. Learn more