Pregnant mother-of-four Angelina Jolie, a UN ambassador, is busy in Washington DC. Last night she honored Mariane Pearl. People reports:
Angelina Jolie was radiant as she awarded her friend, journalist Mariane Pearl, with the Fern Holland Award Monday night at the Vital Voices Global Leadership Awards gala in Washington, D.C.

Jolie, who played Pearl in the film version of her book A Mighty Heart, spoke of Pearl's special gift as a mother and called her an example of "courage, hope and tolerance," reports the Washington Post.

Pearl, the wife of slain reporter Daniel Pearl, called Jolie "a sister" during her acceptance speech, and the two spent the day together, as their kids - Maddox, Pax and Adam - played.
Today she was busy at the Council on Foreign Relations, advocating education for the children of Iraq, many of whom are now refugees.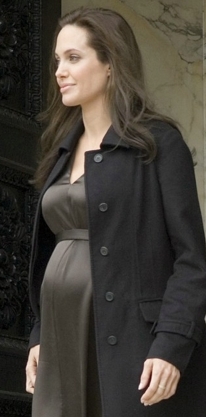 Reuters Reports:
"The best way to heal children of conflict from trauma is to have them focus on their future," Jolie told the Council on Foreign Relations.

Jolie, who visited Iraq in August, and other humanitarian workers discussed how to help displaced Iraqi children regain some sense of normalcy and stability through education...

"Every child has a right to education and conflict is not a reason to ignore that," Jolie said.

The Hollywood actress has visited more than 20 humanitarian hot spots, including Iraq and Sudan's Darfur region, since becoming a good will U.N. ambassador in 2001.

The Iraq war has produced 4.5 million refugees and internally displaced people. Of those who have fled the country, about 1.5 million are now in neighboring Syria, while hundreds of thousands have relocated to Jordan and Lebanon.
And Jolie also hit up the Air and Space Museum with her two sons, Maddox and Pax. The Washington Post reports:
World-famous tabloid tots Maddox and Pax Jolie-Pitt roaming the Air and Space Museum yesterday morning, attracting throngs of photo-snapping tourists who nonetheless kept a respectful distance (maybe something to do with the security guard by their side). Maddox, 6, wore a navy blue hoodie; Pax, 4, wore an olive green jacket; asked a lot of questions as they toured Space Hall, Skylab and the WWI and WWII exhibits. The brothers came to D.C. with their mother, Angelina Jolie, who had business here with last night's Vital Voices Global Leadership Awards gala and at the Council on Foreign Relations today.
More pregnant Angelina in Washington pictures
And watch video of Angelina at The Council on Foreign Relations.
SUBSCRIBE TO & FOLLOW ENTERTAINMENT
THE spot for your favorite fan theories and the best Netflix recs. Learn more