Along with an enormous entourage and a message of peace, the Pope brought with him to the United States a lifelong love of cats.

Benedict's kindness toward the strays of Rome is already the stuff of Vatican legend. His house in Germany, its garden guarded by a cat statue, was filled with cats when Benedict lived there full time before he was posted to the Vatican in 1982.

And Benedict is, without a doubt, the first pope to have had an authorized biography of him written by a cat -- Chico, a ginger tabby who lives across the road from Benedict's old house in Germany.
-or-
Click here, here and here to read more about the Pope's passion.
-or-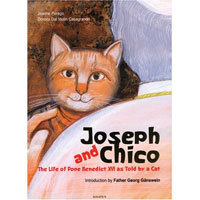 Check out Joseph and Chico: The Life of Pope Benedict XVI as Told By a Cat.