Excitement is building in Washington about this weekend's White House Correspondents Dinner — the final for the Bush administration and the chance to cozy up to whoever you hope will be in the next one. All three campaigns will be well-represented at the event — which will also give them a chance to cozy up right on back, with their particular spin on how, exactly, this race is shaping up. Barack Obama's chief strategist David Axelrod will be at the Newsweek table (right beside Jonathan Alter, no doubt!), along with John McCain's campaign manager Rick Davis; we hear that excitable Hillary Clinton campaign chair Terry McAuliffe will be in attendance as well. Meanwhile, New York mayor Michael Bloomberg will be proving his status as an independent by hosting representatives from all three: Obama campaign chair David Plouffe, McCain chair (and former HP doyenne) Carly Fiorina, and Clinton spokesperson Jay Carson, presumably with his hair grown back. No candidates will be attending (though there should be some former candidates roaming about), but their presence will certainly be felt: Word on the street is that these operatives will be very much on duty, carrying out instructions from the campaign to spin to the media masses at the dinner — to say nothing of the afterparties.
The Bloomberg party at the Costa Rican embassy is well-known to be the hottest of these events, with invitations only recently going out to a select few (500), many of whom are from news orgs for key message-moving. (ETP hears that there has also been much wheedling to get in, if not outright offers of cash, though it's early yet. Best of luck to the hopeful — the party may be D.C., but the bouncers are from New York). Also in the mix is the Vanity Fair party, officially revived as a post-WHCD tradition, now in its second year after a hiatus, and back at Christopher Hitchens' apartment. This one is more exclusive — last year the head count was about 120 — and this year it will remain "intimate," according to a VF spokeswoman. Finally there's the Capitol File party, with some of its own thunder thanks to location (the spanking new Newseum) and star wattage (featured entertainer Craig Ferguson will be co-hosting the event with Rosario Dawson, in conjunction with her org Voto Latino. They'll be hosting "500 of Washington's biggest VIPs and visiting celebrities" (that's what they told me, but they'll have to take that up with Bloomberg); they do, however, have at least the potential for Dawson to descend the Newseum staircase in her own special way.
Who knows how long the crowd will be able to keep up after this grueling campaign season — with the partying or the spinning — but the event is packed and should yield some interesting moments — maybe even from the campaigns, despite their charge to stay on duty and on message (though it remains unlikely that David Plouffe will be able to kick back and dance on a bar in a lampshade). In the meantime, divert yourself with imagining whose Manolo-clad feet will be dancing atop this wooden contraption in the wee hours of Sunday morning — it's the view from under the Bloomberg party build-out from the Costa Rican embassy, and 500 people are betting that its sturdy. Party wannabees, it also looks like a pretty good place to hide while you're waiting for a moment to sneak in undetected. Best of luck with that.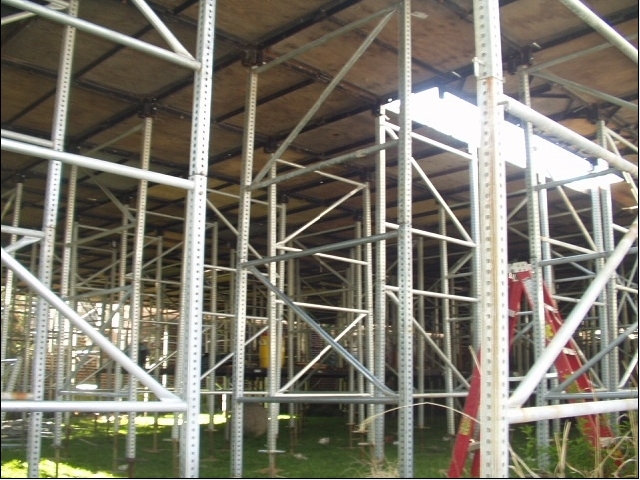 p.s. Image of Stephen Colbert by now is universal symbol for "White House Correspondents Dinner" - it's the first thing to come up in a Google search.
SUBSCRIBE TO & FOLLOW THE MORNING EMAIL
Start your workday the right way with the news that matters most. Learn more