After the party, it's the after party — or three after-parties, attended in whatever combination and proportion possible. As mentioned, there were three possibilities: The elusive Bloomberg (elusive if you weren't invited, because it was so damn hard to get into; elusive if you were invited, because they made people wait in the rain beforehand); the exclusive Hitchens (less than a quarter capacity of the other two) and the-rest-of-you-sive Capitol File, which welcomed a diverse group of revelers to the Newseum. FishbowlDC's Patrick Gavin has some great pics from that affair — alas, we didn't make it to join Tim Daly, Alicia Witt, Wolf Blitzer, Greta Van Susteren, Rita Crosby, Perez Hilton, Morgan Fairchild, Debra Lee, Eric Dane, Bill Hemmer, Brett Baier, John King, Martha Raddatzand DJ Pete Wentz; we wentz to the other two.
Our party posse of ETP, Glynnis MacNicol and Keli Goff made the almost fatal mistake of returning to the room and "just resting for a few minutes" - the party kiss of death. (You will keep those heels on, ladies, and march on out that door!) But we rallied, heading over to the Costa Rican embassy to see what this Bloomberg party was all about. Turns out it was all about purple light, chakra-aligning welcome music, and not being a wimp about stepping around a few strategically-placed buckets. (Unless you got there early, in which case it was also about waiting in the rain. You know what they say about Washington: Southern efficiency and northern hospitailty!) It was the party with by far the coolest coverage, however - check out this awesome time-lapse video on its impromptu blog. As you can see, it's empty in the beginning because everyone is out in the rain. Here's another vid of people arriving at the pre and post-parties. And, here are some more pictures!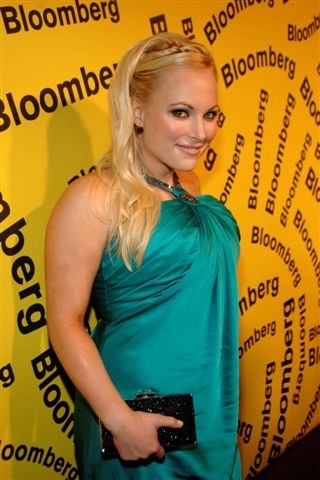 Megs Diamond! Megan McCain poses at the Bloomberg party, against an unmistakable backdrop. Never underestimate the importance of branding (by the way, McCain and grandma Roberta arrived via the Straight Talk Express). (Photo by Nick Hunt/Patrick McMullan.com via Bloomberg LP.)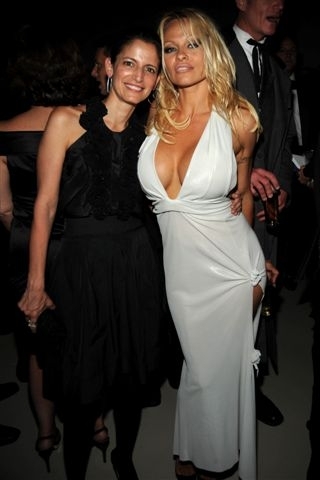 Wow, Glamour ed. Cindi Leive looks so...restrained beside Pamela Anderson. Canada's most famous export, ladies and gentlemen! (Photograph by Billy Farrell/Patrick McMullan.com via Bloomberg LP)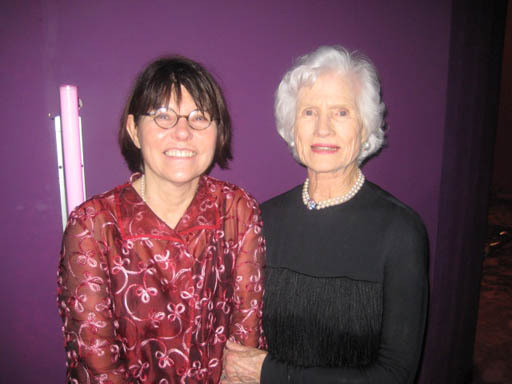 All hail Roberta McCain, by far the hardest - and hardiest - partyer of the bunch. She was one of the big draws last night. Here she is with Bloomberg's Margaret Carlson, heading out after making the rounds at Bloomberg.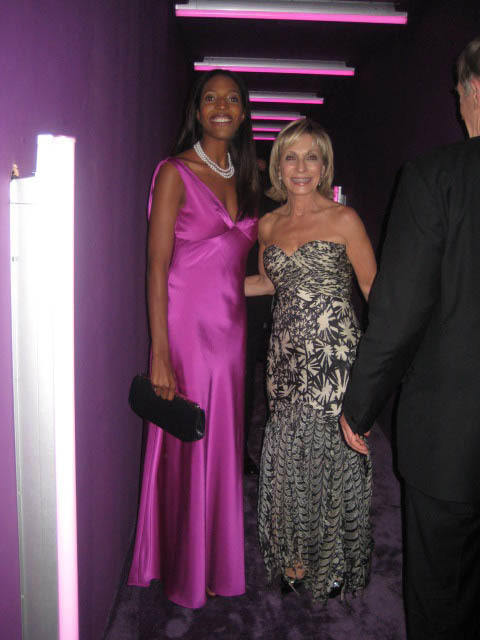 Keli with NBC's Andrea Mitchell, super-glam in a long strapless gown with a fabulous train — fabulous except for the rain, alas, and the buckets dotting the long, winding and now semi-puddly entranceway into Bloomberg. Mitchell didn't seem to bothered.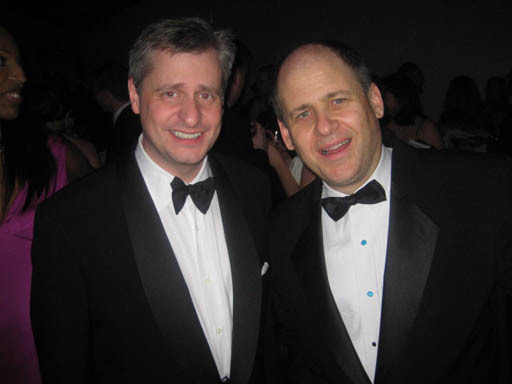 Jons Meacham and Alter of Newsweek, like Franklin and Winston might be if they were in a tented party room with delicately-passed canapés and waitresses dressed up like scantily-clad futuristic stewardesses.
For those of you who doubted the newly-coined "Will Forte, SNL Heartthrob" moniker, doubt no more. That is dangerously close to a pout. Sassy! (Photographer: Billy Farrell/Patrick McMullan.com via Bloomberg LP)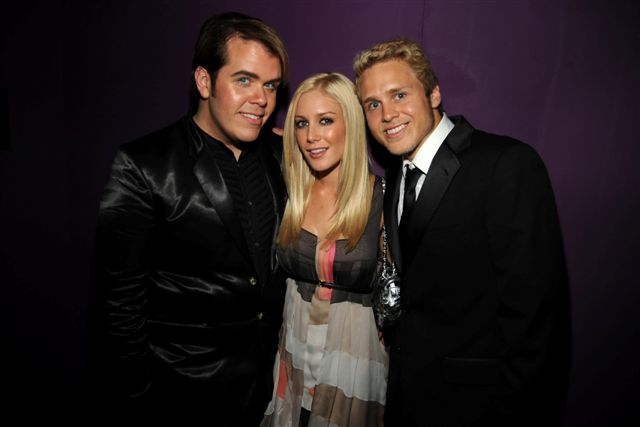 The Unholy Trinity: Perez Hilton, Heidi Montag and Spencer Pratt. Those three names are taking up space in my brain that could be used to like, know stuff. (Photographer: Billy Farrell/Patrick McMullan.com via Bloomberg LP)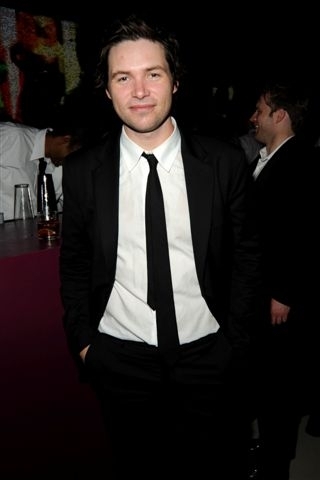 OMG Michael Johns! Can you introduce us to Kellie Pickler? (Photographer: Billy Farrell/Patrick McMullan.com via Bloomberg LP)
Chuck! Ed Westwick is his real name, but we know him as the rakish Chuck from Gossip Girl. I mean, if Heidi Montag, why not Chuck? (Photo by Nick Hunt/Patrick McMullan.com via Bloomberg LP.)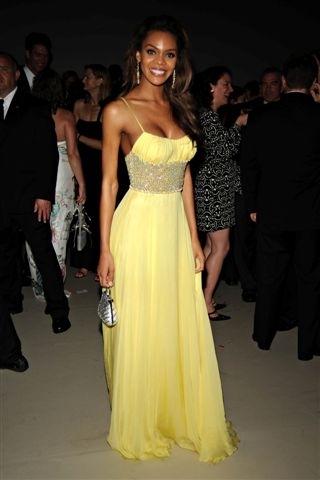 Still not sure what the difference is between Miss America and Miss USA, but Crystle Stewart was the latter and she was wearing a truly rockin' dress. And no tiara, which has gotta be a plus. (Photographer: Billy Farrell/Patrick McMullan.com via Bloomberg LP)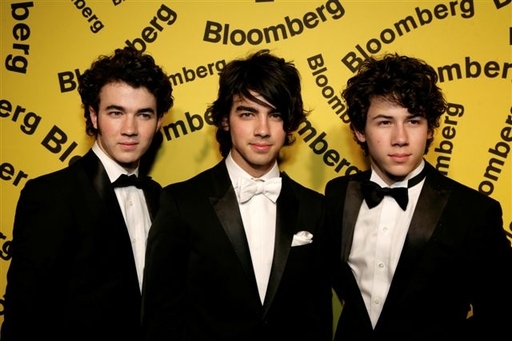 The Jonas Brothers! Apparently they're like a male boy-band version of Miley Cyrus, except with shirts. (Photographer: Billy Farrell/Patrick McMullan.com via Bloomberg LP)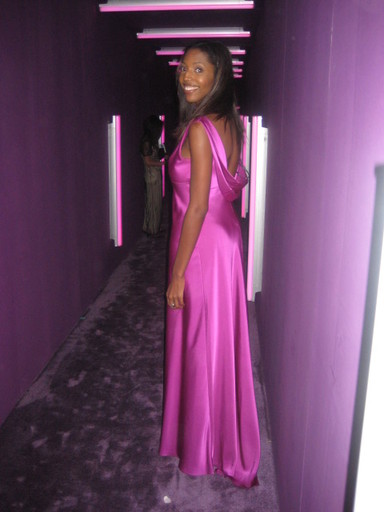 Pretty in purple: The Bloomberg party is the ultimate accessory.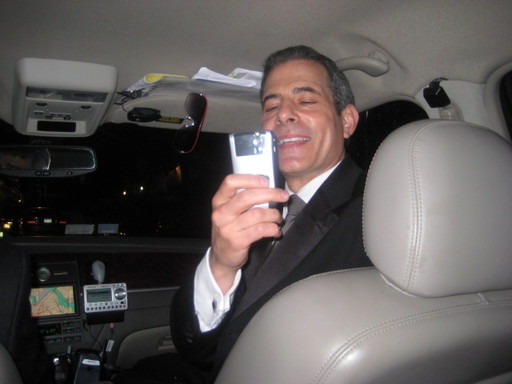 Transition: Here's where we moved from one party to the next, thanks to Rick Stengel, who briefly played camp counselor, figuring out who needed a ride and then sending a few ahead in Ron Silver's SUV. See those sunglasses in the background? We're not saying he put them on and wore them around for the rest of the night, refusing to take them off and insisting that everyone call him "The Ricker," but we're not saying he didn't.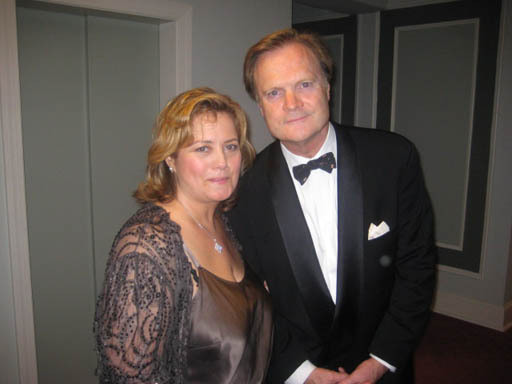 We caught Hilary Rosen on the way out as we were arriving, and were glad of the chance to thank her for brunch (and liveblogging!). With Lawrence O'Donnell (pocket square still fresh and jaunty at 1 am - impressive).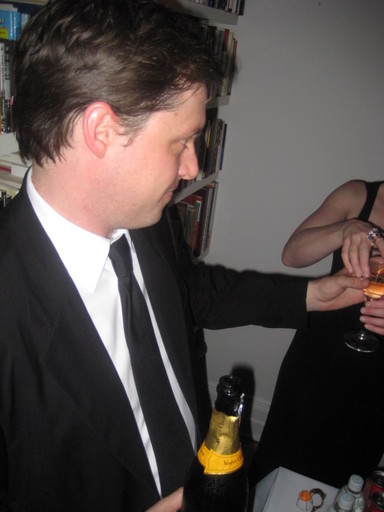 The New Republic's Michael Crowley saw champagne, and thought it looked awfully lonely in its little bucket. So he popped it expertly and played impromptu bartender. And all was well.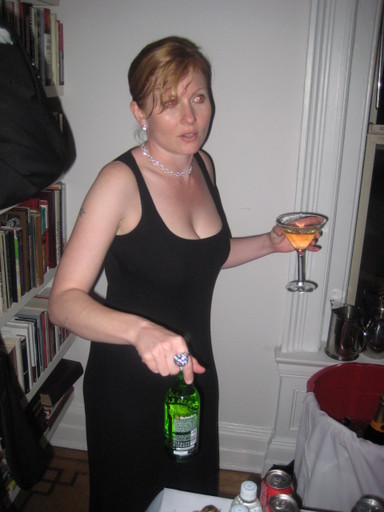 Ana Marie Cox provided support in champagne-distribution, for which apparently only one hand was required.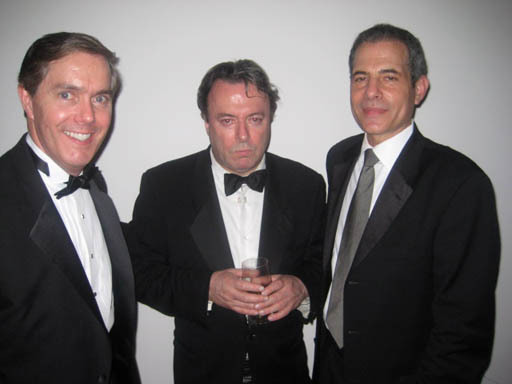 C-SPAN sr. EP and political editor Steve Scully was all smiles because he didn't have to put on the event this year; Vanity Fair after-party host Christopher Hitchens looks cranky but actually was a charming host, and seemed in great spirits (8 months after quitting smoking and going strong). Here is Stengel again; we were kidding about the sunglasses. Or were we?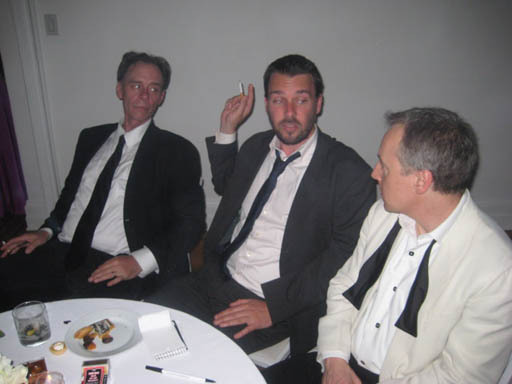 David Carr, Choire Sicha and Jake Weisberg at the Hitch afterparty, ties loosened, cigarette smoke curling, reporter's notebooks thrown heedlessly on the table. This is where the REAL thoughts get thunk.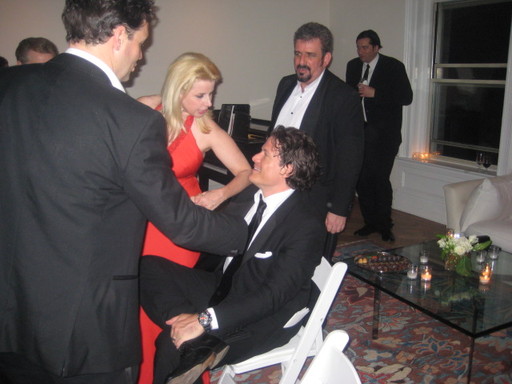 When Rita Cosby is talking, sir, you are listening. Got that?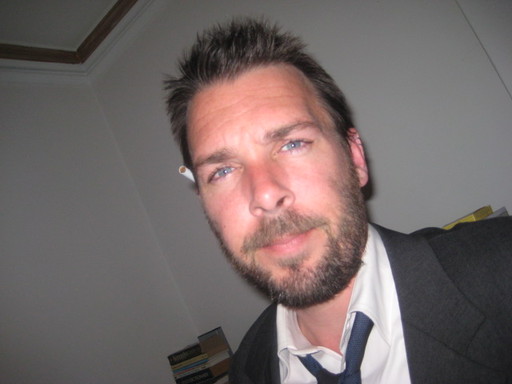 Choire Sicha really looks like he belongs in Christopher Hitchens' apartment. Sorry, what was that? We were lost in his eyes.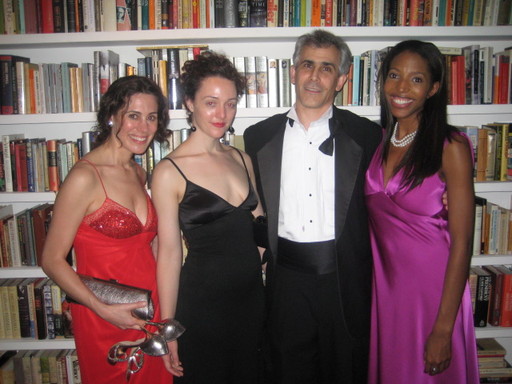 David Corn has some serious problems with the White House Correspondents Dinner, dammit!
All uncredited photos by Rachel Sklar, or if she's in them, taken with her camera. All other photos courtesy of Bloomberg.
SUBSCRIBE AND FOLLOW
Get top stories and blog posts emailed to me each day. Newsletters may offer personalized content or advertisements.
Learn more