A final wrap-up on the weekend's WHCD extravaganza (Dinner! Afterparties!), with photos from the brunches bookending the event, the Tammy Haddad et al Garden Brunch on Saturday and the John McLaughlin brunch at the Hay Adams hotel on Sunday. But first, a few last tidbits, because the rule is that as long as the Observer hasn't come out there's still time. Oh, what's that you say? Damn.
So, some final notes:
A source at the Bloomberg party tells us Minnesota Senator Amy Klobuchar was chatting with potential First Mother Roberta McCain, and predicting a big room shortage during the GOP convention in Minneapolis in August. Oh well. There's always the hospitable bathrooms at the Minnesota airport!
Bloomberg DC Bureau Chief Al Hunt thought that his company had invited Paris Hilton, not Perez Hilton. Oops. I can see how that might have been a shock. At least Bloomberg also had Pamela Anderson to numb the pain.
Time's Michael Scherer really, really, really didn't have a good time. He's also a bit on the self-loathing side, describing himself and his fellow D.C. journos as "a sorry lot" of unsexy, uninteresting, unremarkable, uncool "pinheads." Also, the food wasn't good enough and there weren't enough bathrooms. Wow, Debbie Downer, remind me to get your contact info.
Bosslady Arianna Huffington was, alas, not in attendance this year (she was hosting a book party for Kathy Freston's new Quantum Wellness, and no doubt gearing up for her own new book, Right is Wrong), so I had to carry the HuffPo torch alone. I did, however, have help from Tracy Ullman, who held forth with her Arianna impression ("blogs and kisses, darlings!") at a Bloomberg pre-party on Friday night and at the Haddad & Co. brunch on Saturday (see video here).
Who was more popular, Obama speechwriter Jon Favreau or Pamela Anderson? Obviously Pamela Anderson, but still, apparently he had his share of admirers. It's gotta be that exotic French name, like Plouffe.
We saw fellow Canadian Mort Zuckerman there, but alas he had no time for after-partying; he was headed straight back to New York, along with Peggy Noonan. Those newspapers don't buy themselves, people!
Apparently Pete Wentz is classy.
If you think celebs like Lauren Conrad wrangle themselves, think again! Bloomberg actually hired L.A. talent executive/producer Danette Herman to bring her Oscar, Emmy and Tony Award-wrangling talents to bear on the guests sprinkled amongst its 12 tables. "We brought her in because she is the one person in Hollywood everyone wants to get a call from," Bloomberg point-person Tammy Haddad told ETP. "She helps determine whether or not you are worthy to be on the big awards shows." Ahhh. That explains what Dennis Hof was doing there. (Joke, he was not a guest of Bloomberg. Nor did he know anyone there).
I walked out of an elevator and almost smack-dab into Katie Couric, but she was a second enough ahead of me that I couldn't see her face perfectly, and I just assumed she was someone who looked like Katie Couric, because why on earth would Katie Couric want to go to this?Oops. Apparently people were giving her the sympathetic, "How are you?" all night. Sorry I missed you, but nice dress from behind, Katie!
To the pics! First up, the Garden Brunch hosted by (deep breath) Tammy Haddad, Ted Greenberg, Hilary Rosen, Alex Castellanos, Debbie Dingell, David Adler, Kathyrn Leyman and Beth Viola. It was verdant, half-tented and very, very crowded, but in a good "you're sweating, I'm sweating, we're all sweating!" sort of way. See below: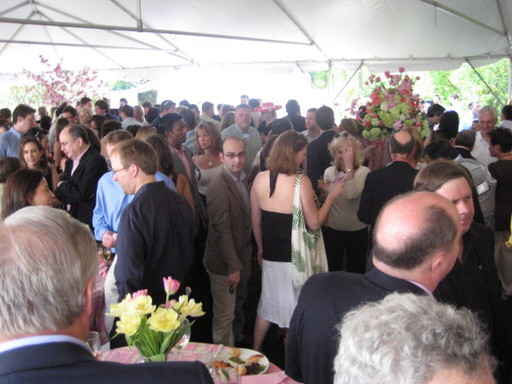 The Politico's Michael Calderone looks for scoops in the crowd, but can only find politicos, journalists, and men using the event as an excuse to wear brightly-colored pants.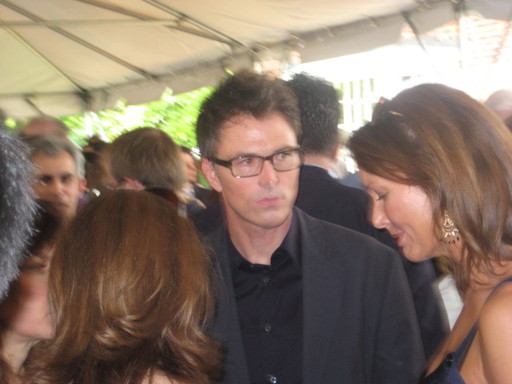 Tim Daly watches the crowd through horn-rimmed eyes, like the name of that show he used to be on, "Eyes."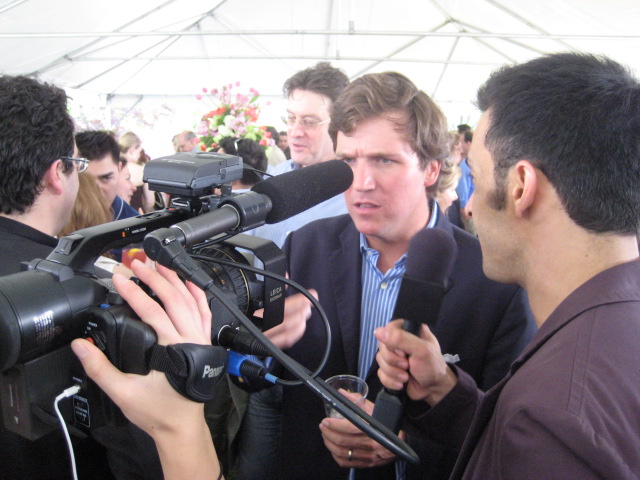 Tucker Carlson gets filmed for NewsweekTV. Watch the spot here. Meta!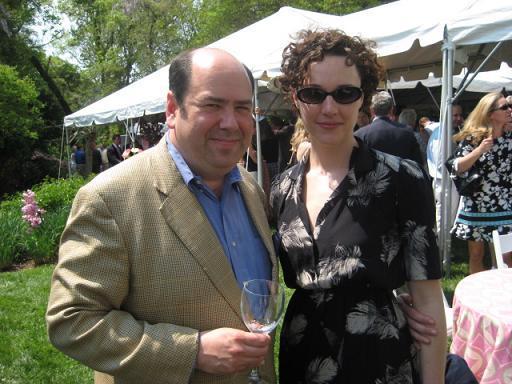 Porfolio's Matt Cooper with Glynnis MacNicol of FishbowlNY, who clearly was not worried that the heat would make her hair curly.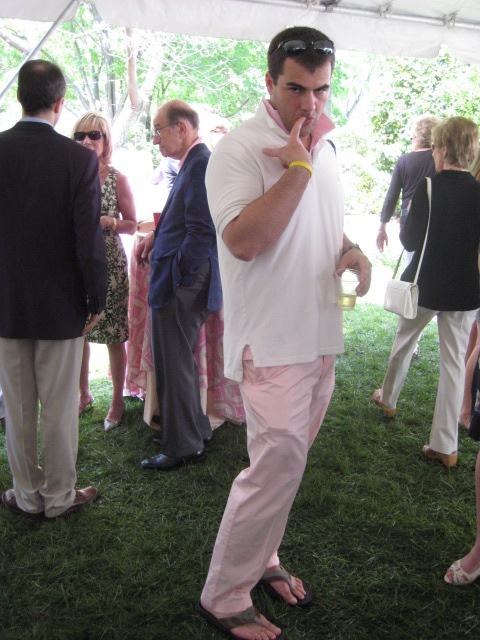 So much to say about Patrick Gavin of FishbowlDC - he has just owned this Prom coverage, end to end, and also apparently owns pink pants. Which is good, because it picked up the subtle color in the pink polo shirt he was wearing under that white polo shirt, collars up. Nicely done, Patrick!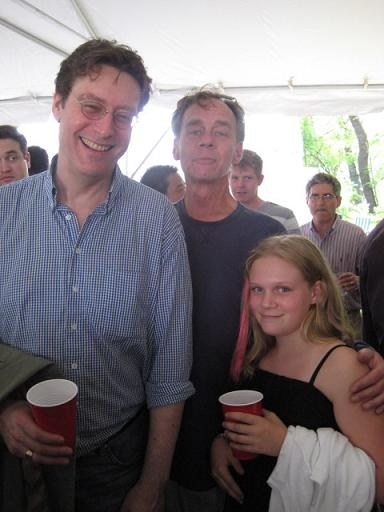 Lloyd Grove, David Carr, and David's 11-year old daughter Maddy, who had a very funky pink stripe in her hair. It matched Patrick's pants!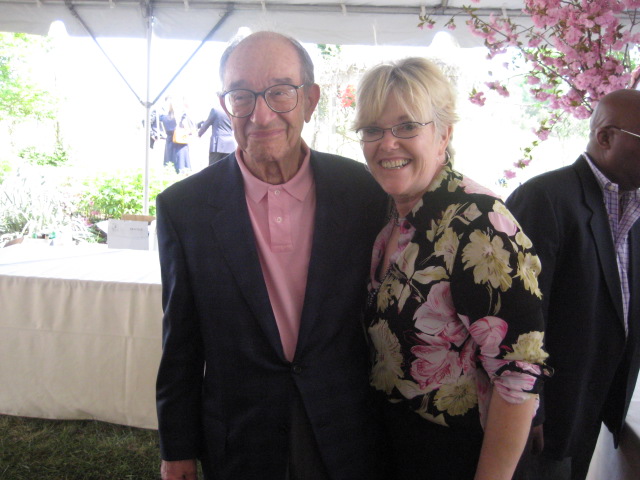 Alan Greenspan! That was a big sighting at the brunch, there were numerous photo requests. He was there with his wife, Andrea Mitchell, who is not the woman beside him but she had disappeared into the house.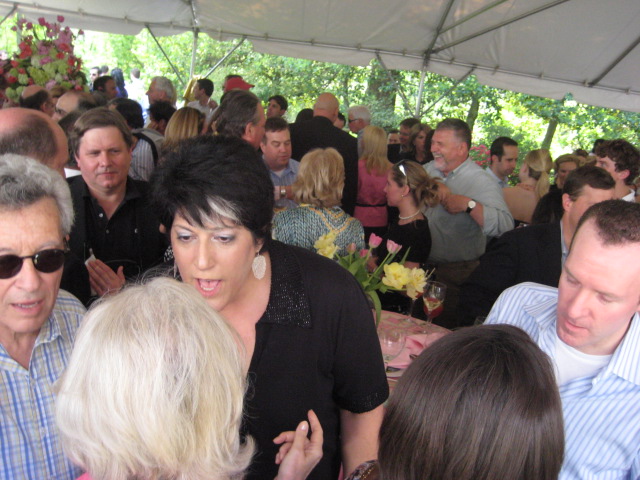 Tammy Haddad greets a guest after beckoning Chris Ariens of TV Newser to her side. We're sure it was posted somewhere here.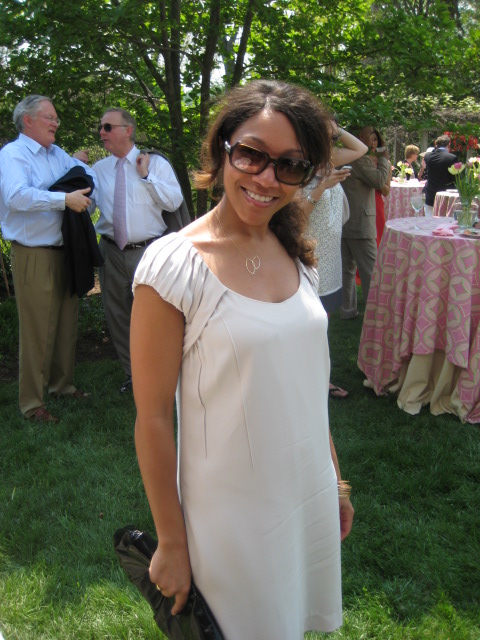 The garden brunch is so bright, WWD's Stephanie Smith has gotta wear shades.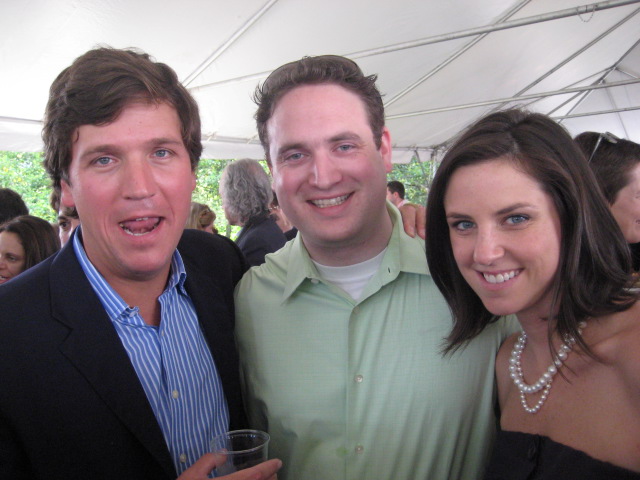 MSNBC's Tucker Carlson, producer Adam Verdugo and pop-culture analyst Courtney Hazlett . Courtney won the prize for garden-party chic in a strapless one-piece pantsuit by Tibi. Keeping cool was VERY important that afternoon.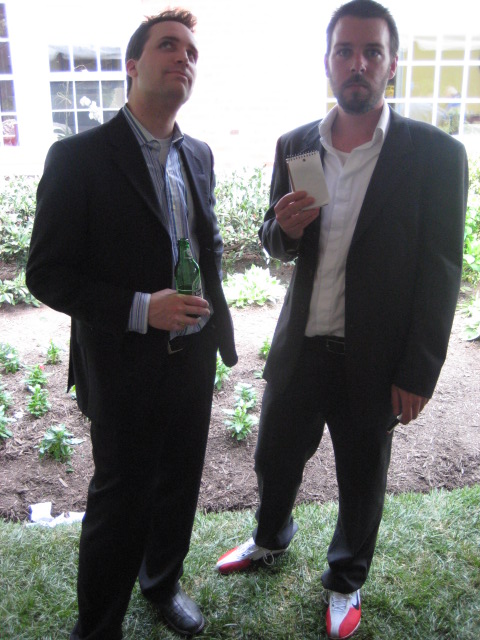 Observer boys Felix Gillette and Choire Sicha show off their hip garden-brunch footwear.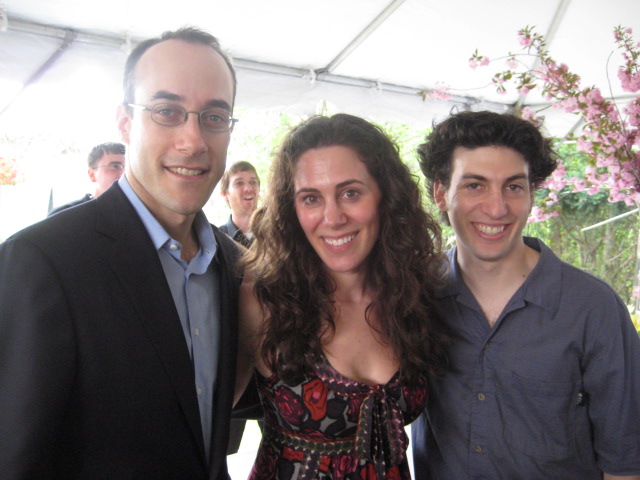 Former CPA spokesperson and current Fox News analyst Dan Senor, your ETP editor and Dr. Jordan Feld of the National Institute of Health, whom we brought just in case any of the high-profile guests keeled over. It was hot, and parties can make one gouty. This otherwise highly random assortment of people have one thing in common: Attendance at Camp Winnebagoe in Huntsville, Ontario, Canada. Sigh. If only Geraldo Rivera's wife had been there to join us!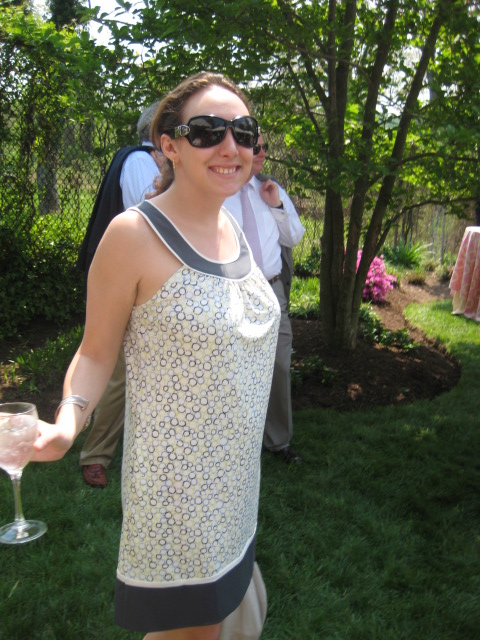 Corynne Steindler of Page Six, who rocked not one but two outfits later that night - black with a blue wrap for the dinner, and hot pink for after.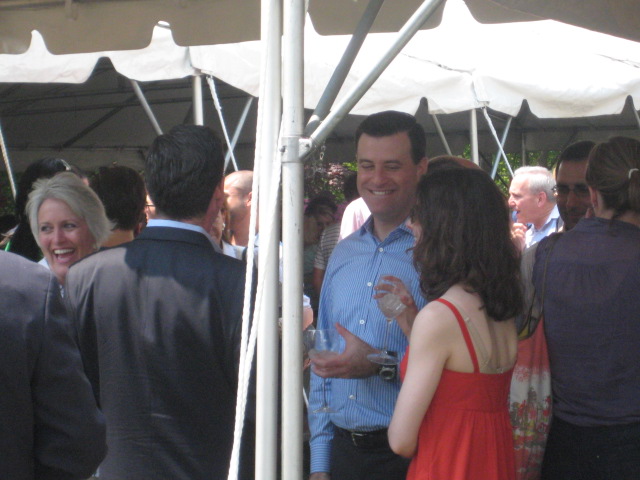 MSNBC's David Shuster with a woman we're guessing is his wife. (There is a joke I could make here, but I won't because it's too easy, and it rhymes with schmimp. See my restraint?)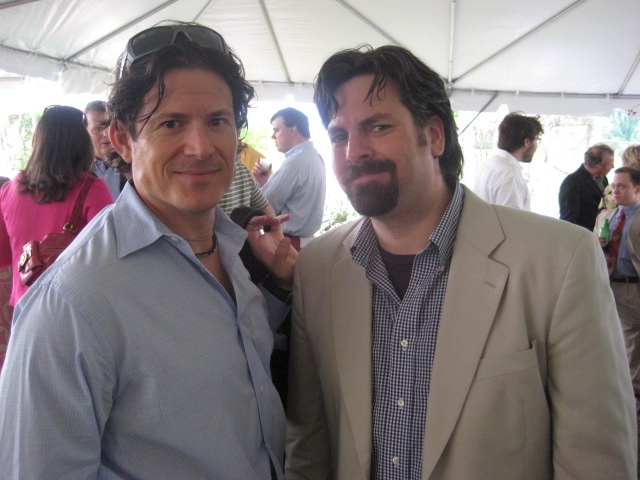 Stephen Hayes of the Weekly Standard and person we spoke to a few times but the whole name thing didn't stick. However, we did catch their shoes. And so can you, below!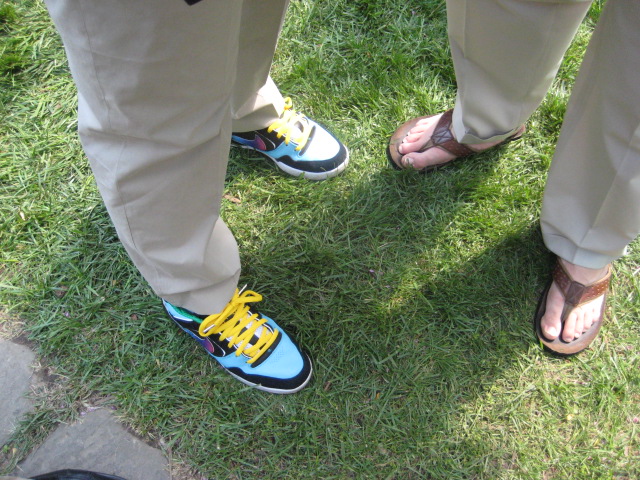 Who wears flip-flops and who wears neon sneakers? Only Stephen Hayes and the dude above know for sure...and me, but I am working hard to distract you from the fact that I don't' know the other guy's name.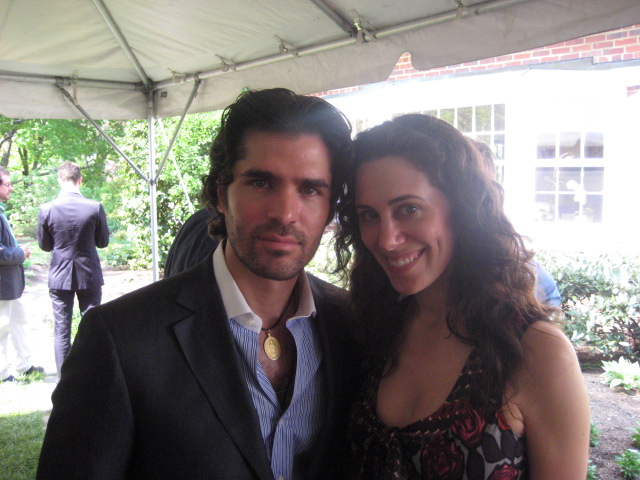 This is me with Eduardo Verastegui, Mexican actor and producer in and of the critically-acclaimed film "Bella" (explained to me as the story of a world-famous soccer star whose life takes an unforseen turn and he has to start all over and apparently we only understand the title of the movie until the very last moment. Rosebud!). He's known as "Mexico's Brad Pitt." You would begrudge me this photo?
***********
Next! Sunday morning we sprang from bed, bright-eyed and bushy-tailed, and off we went to a brunch. "We're looking for the sharpest minds and toughest talk," we told the girls at the door. They assured us we were in the right place.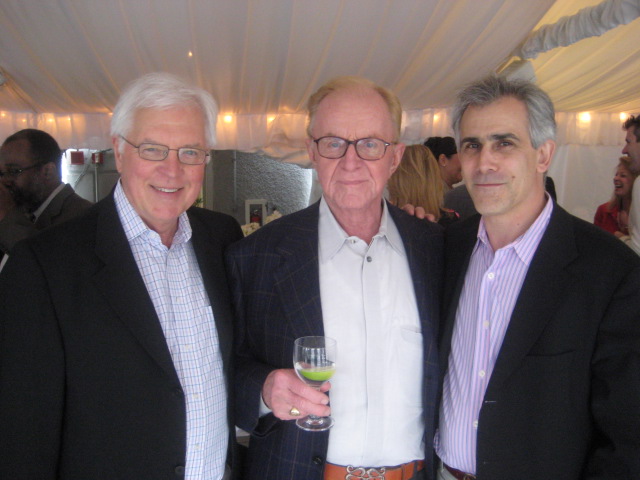 Next-day brunch host John McLaughlin (blonder in person!) flanked by the very friendly Bill Press and the ubiquitous David Corn. McLaughlin liked our "sharpest minds, toughest talk" joke.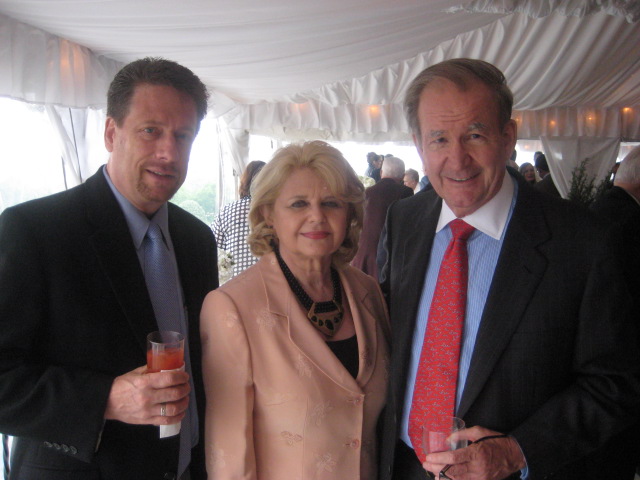 Pat Buchanan with his wife, Shelley, and documentarian Todd Clark. Though ETP arrived with Keli Goff, she wasn't with us when we greeted Buchanan. No particular reason.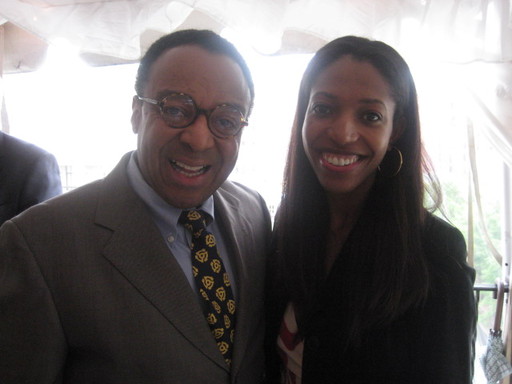 Here's Keli, with the delightful Clarence Page of the Chicago Tribune, with whom we enjoyed sitting down for our meal with his very cool wife, Lisa. Clarence said that he'd been guesting on the show since 1988. Note Clarence's awesome tie, straight from the Cleveland Rock n' Roll Museum. If you get why it's awesome, you're old.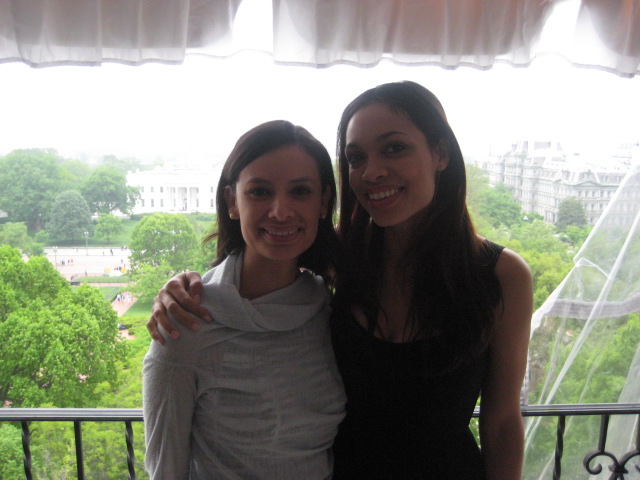 The stunning Rosario Dawson with Maria Theresa Peterson of Voto Latino. We were introduced by the all-powerful Jan Angilella of Newsweek, and we segued quickly from my awkward rhapsodizing about Rent to discussing Rosario's activism with Voto Latino, the Lower East Side Girls Club, and other charitable endeavors. She was so filled with ideas that I suggested she blog them! And I did it in song:
Why don't you bloooo-oooog tonight?
I want you to-oo-oo-oo
Bloooo-ooog tonight
You're smart, gotta lotta heart
Gonna get out the vote with each primary start!
So won't you bloooog tonight! Tonight! Tonight!"
So look for Rosario on HuffPo soon!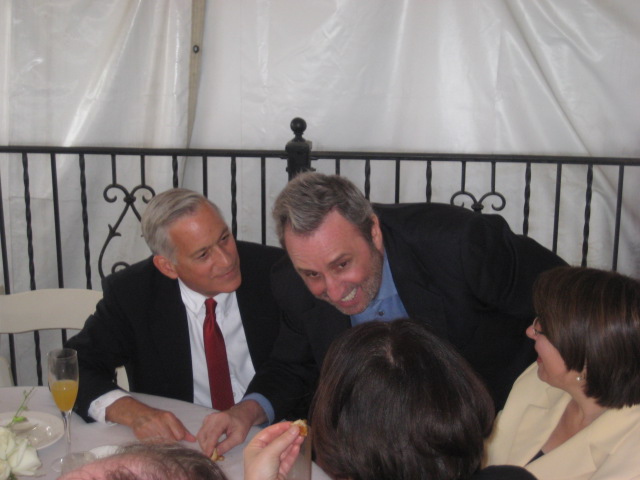 Shhh! Ron Silver has a secret for Walter Isaacson and the 8 other people at the table.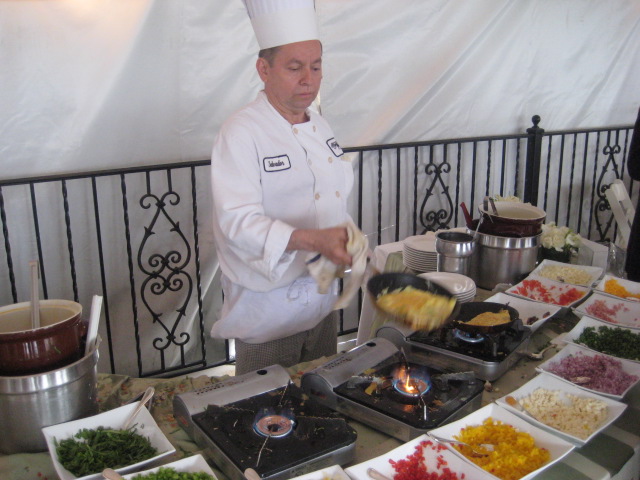 Omelette station = Delicious, and passover-friendly! (Passover officially ended on Sunday at sundown, but between the omelettes and delicious Caesar salad, I was all set. Yeah, I said "omelettes").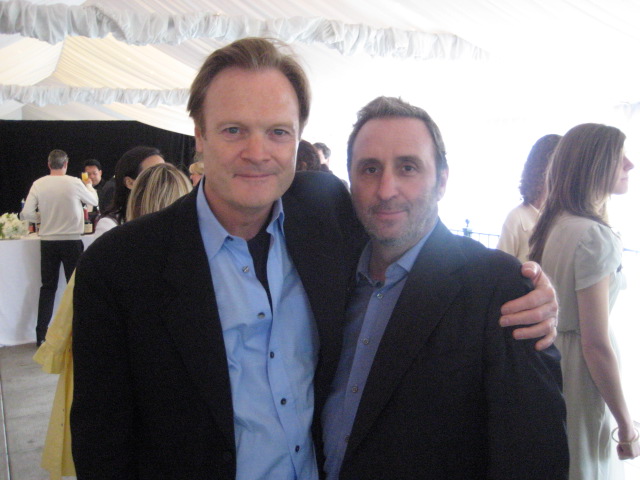 "West Wing" compatriots Lawrence O'Donnell and Ron Silver, captured together in a moment of brunching kinship. See, bet those of you who stopped before the end are kicking yourselves now!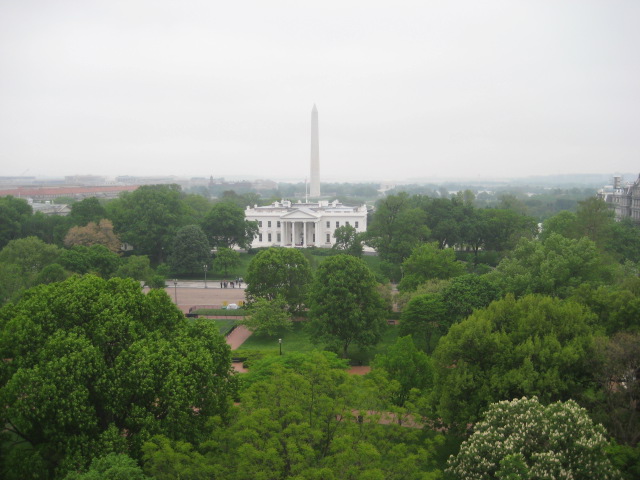 Blame it all on this place.
Topmost photo courtesy of the Washingtonian; all other photos by Rachel Sklar.
SUBSCRIBE TO & FOLLOW THE MORNING EMAIL
Start your workday the right way with the news that matters most. Learn more