Jenna Bush tied the knot with Henry Hager Saturday at her family's ranch in Texas. From the AP:
Jenna Bush couldn't see herself getting married at the White House surrounded by antique furniture and oil portraits of presidents. She and Henry Hager opted to say "I do" Saturday at President Bush's ranch in Crawford where the corn is thigh-high, roads are named Cattle Drive and the Texas flag is painted on the rooftops of barns.

Away from the glare of television cameras that have beamed other first family weddings into American living rooms, Jenna's outdoor wedding at the ranch reflects her family's penchant for privacy and her preference for the casual over grandiose.

Even without the prying eyes of strangers, Jenna's marriage to her longtime boyfriend Henry Hager will make presidential history. It will be remembered as an upbeat moment of Bush's two-term presidency beset by terrorism, war and the nation's current limp economy.[...]

Jenna, 26, is the 22nd child of a president to get married while their father was in the Oval Office.
BASIC DETAILS: via the AP:
Bride: Jenna Welch Bush

Groom: Henry Chase Hager

Place: President Bush's Prairie Chapel Ranch, Crawford, Texas

Guests: More than 200 friends and relatives

Attendants: 14 women known as members of the "house party," not bridesmaids

Bride's gown designer: Oscar de la Renta

Ring: The diamond, a Hager family heirloom, reset in a ring that also features sapphires.

Maid of Honor: Jenna's twin sister, Barbara.

Ceremony site: At a cross made of beige Texas limestone erected near a lake on the ranch.

Engagement: Aug. 15, 2007 at Acadia National Park in Maine.
Watch a slideshow about Jenna Bush's wedding details, commemorative gifts and more.
Even more details about Jenna Bush's wedding here.
A typical wedding souvenir :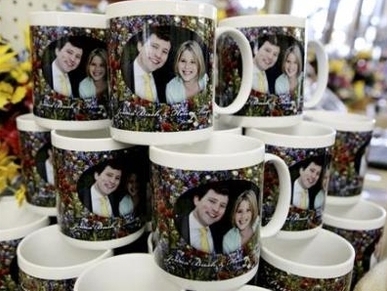 FOLLOW HUFFPOST