Yesterday's Wall Street Journal's featured a hilarious front-page article about "Two and a Half Men" and "The Big Bang Theory" exec producer Chuck Lorre and the 'vanity cards' that flash at the end of every show. Most vanity cards are two-second production company logos (think 'Worldwide Pants' or 'Bad Robot' or 'Sit, Ubu, Sit. Good Dog. Woof!') but Lorre's are mini-essays — hilarious, personal and what writer Katherine Rosman calls "some of the most provocative writing on broadcast television." So far, Lorre has written 211 vanity cards — collected on his website for your (addictive) browsing pleasure — on topics ranging from his late father ("I want to apologize for despising you for reasons I still don't understand"), words he'd like to invent ("Homortified - the uncomfortable feeling straight men have when they're watching porn and are momentarily turned on by the wrong ass") and, not surprisingly, tangling with his bosses ("Just two episodes back from the strike and I've already managed to write a vanity card that is completely unacceptable to the good folks at CBS").
It's a very fun story, and Rosman goes through all sorts of examples of how Lorre's vanity cards wreak varying degrees of havoc — but she probably wasn't betting on being on the receiving end of same. Yet, that was exactly what happened on Monday night, when the latest vanity card aired — mentioning the WSJ,
Rupert Murdoch
, Warner Brothers and AOL, and requiring some fast action from Rosman on Tuesday for an article that was set to run on Wednesday:
This past Monday, in a card that aired after one of his shows, Mr. Lorre lampooned The Wall Street Journal and Rupert Murdoch, chief executive of the paper's new owner, News Corp. Mr. Lorre wrote about his vanity cards being the subject of an upcoming "article in The Wall Street Journal (or as I like to call it, The Depressingly Inevitable Next Step Toward the End of a Free Press in America, Thanks a Lot Rupert, Journal)." Robert Christie, a spokesman for Dow Jones & Co., publisher of the Journal, declined to comment.

The card also took a shot at Warner Bros., describing it, in part, as the "monolithic, multi-tiered, entirely un-integrated, boy-did-we-make-a-colossal-boo-boo-with-AOL entity." Warner Bros. Television produces Mr. Lorre's shows. A spokeswoman for Warner Bros. Television, a part of Warner Bros. Entertainment, which is owned by Time Warner Inc., declined to comment.
There's only one word to describe this situation: Hilarious! Lorre somehow managed to become the story even more in a story that was already about him, taking the piece from outsider's account to perfect example of why his vanity cards are so newsworthy and boundary-pushing (and, we're sure, exasperating). ETP emailed WSJ spokesman Christie, asking who had noticed the new card and how it had affected the editorial process but, not surprisingly, he declined to comment: "It is the policy at the Journal not to comment on newsgathering or editing decisions, so we will decline comment on these questions below." Still, one can surmise that the there was probably a last-minute flurry in the newsroom Tuesday as the page one story was amended to include a reference to how the new boss was killing journalism.
The moral of the story? Never miss an episode of "Two and a Half Men." Also, if you make enough money for Les Moonves, he will tolerate an awful lot.
Below are a few Chuck Lorre vanity cards, including the full WSJ card from Monday night, his most popular card (about the writer's strike), his least popular card (thanking his staff, which is still funny) and a card about Arnold Schwarzenegger that I can't believe they allowed on the air. He really must make a lot of money for Moonves.
Hit TV Writer Has Brief Message For His Viewers [WSJ]
The Official Vanity Card Archives [Chuck Lorre Productions]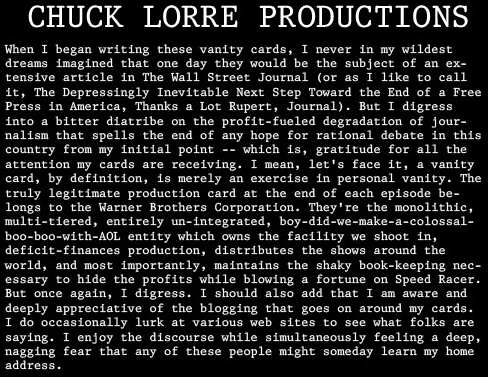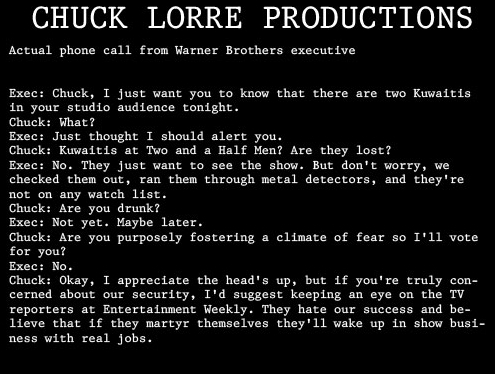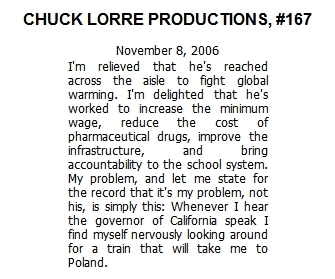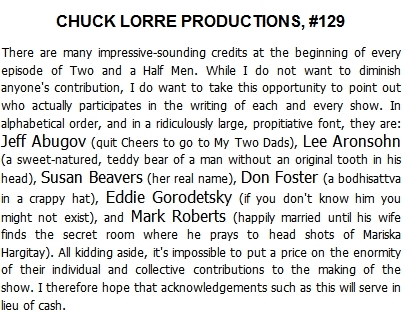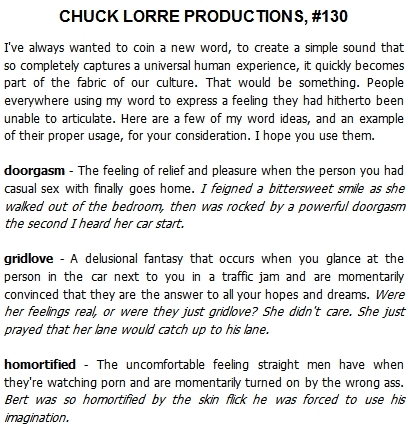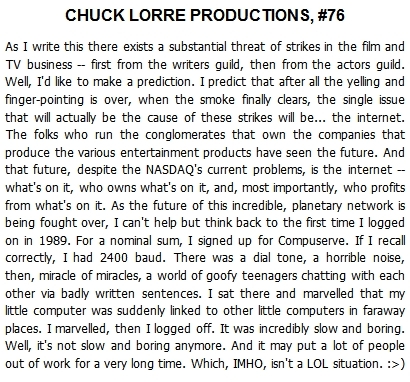 Top two vanity card screengrabs courtesy of the WSJ interactive feature, which features audio from Lorre discussing more cards. Highly recommended.