TV SoundOff: Sunday Talking Heads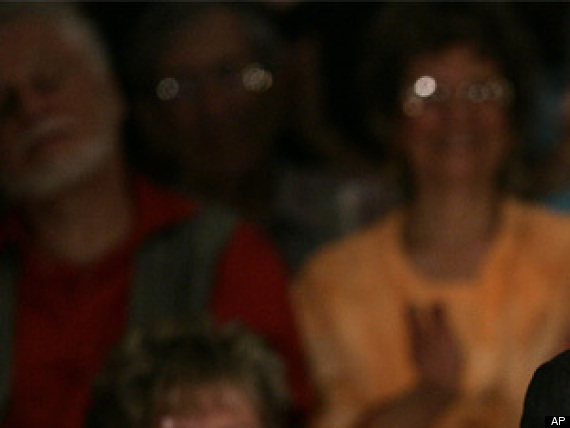 Good morning HuffPo faithful and welcome to your Sunday Morning LiveBlog. Here in Washington, DC, the unmistakable sound of thousands of motorcycles remind the ear that Rolling Thunder is in town and that it is Memorial Day weekend. Back when the Pennsylvania primary build up was in its 347th week, I had imagined that I would take myself a break on Memorial Day. But the truth is, all you readers have really made the past few weeks so enjoyable that I kinda sorta was looking forward to doing it. So here we are, and the only concession I've made to the holiday is forgoing the traditional viewing of Fox News Sunday in favor of an extra hour of rack time. I'm sure they had a deadly important discussion on Fox today. I'm also sure that no one wants to have it Memorialized.
So, yeah, I'm well rested and living with no regrets. I hope none of you are either. Of course, this would likely mean that none of you are watching ANY of these shows this holiday. Well, I hope that's true. But still: leave a comment, send an email, and sit back and enjoy.
This Week, With George Stephanopoulos
So, Hillary said that she's basically staying in the race in the off chance that Sirhan Sirhan becomes a superdelegate or something. So David Axelrod is on, and GSteph seems to think that HE has to answer for it. Axelrod says that hey, she seemed to recognize that it was a big gaffe, but she's apologized and it's time to move forward. "This issue is done...we're not going to spend days dwelling on this."
What does David Axelrod think of the latest Clinton algebra that proves she's actually the winner of the Democratic primary? Not very much as it turns out! "This isn't American Idol," Axelrod says. And he's right! Does David Cook's embrace of the grunge stylings of the 1990's represent REAL change? I mean besides the change that occurs when you make a Roxette song sound like Mudhoney wrote it? That's audacious, but not hopeful.
Axelrod gets in a key point, Obama is doing better than Clinton in California. That said, all these crazy polls change every week. Except For McCain's share of the national vote, anyway? Still stuck on 45-46%, eh, John?
GSteph wants Axelrod to really stress out over losing West Virginia and Kentucky, and he's just not. He just won't do it. He then wants to make Axelrod to admit that the "Dream Ticket" is "compelling." Axelrod does the traditional talking around the point. "I believe we will be unified as a party." "Disaffected" republicans will join up, as well. How can you Republicans not be a little bit "disaffected" by the way?
By the way, McCain, David Axelrod is "not very concerned" with you. So burn.
GSteph immediately describes Karl Rove as an adviser to McCain and Rove objects! Ha! This isn't Fox news, Karl. "I wouldn't say that I'm an advisor...informal advisor at best." GSteph doesn't let it go, at first. The Karl Rove says he and McCain share "chit chat."
I miss most of what Rove says about Obama. He's not experienced, I gather. That's the sort of astounding wisdom you get from Rove. SOME PEOPLE HAVE LIVED LONGER THAN OTHERS! OTHER PEOPLE HAVE DONE STUFF! Obama will have a hard time reaching out to the Live Longers, the Stuff Doers!
McCain, Rove says, has six challenges: slay the Nemean lion, clean the Augean stables, kill the Lernaean Hydra, capture the Golden Stag of Artemis, stop allowing lobbyists to feed him olives by hand and rub truffle butter on his bald pate, and, of course, bomb bomb bomb, bomb bomb Iran.
Actually, one of the things that McCain needs to do is "take his reform agenda" and put it in the context of a "larger agenda." But it's clear that the "reform agenda" has already been placed in the larger agenda of a deep vault from where it shall never trouble the Iraq Surge again. "Republicans need to talk about our agenda, and not earmarks and scandals." I thought earmarks and scandals were the agenda. I thought the whole Mark Foley Page-Poling scandal was folded into one of the Iraq Supplementals.
"What mistakes were made?" GSteph asks? "We need to gain cohesion behind a robust agenda." So, Karl Rove talks like he's a Successories poster. "Mah GOP Buckit," Rove says, "Let me show you it."
GSteph brings up Rove getting subpoenaed for the Don Siegelman. Rove says that the phone call never took place, he only heard of Siegelman by reading about it in the newspapers, something about the separation of powers, and that he's offered Congress many, many inconvenient ways to get information out of him that DON'T involve getting information out of him, so what's with all the fuss? "That's not a denial," GSteph says. Rove says, "Mehhhhhhhhhhhhhh. That's all, folks!"
Panel time! Dowd, Myers, Dionne and Will. George Will says that HRC's RFK TMI was a result of her fatigue and the capacity of Americans for the manufacture of "synthetic indignation." My wife walks into the room and says, "I can assure you, there was nothing synthetic about my indignation. My indignation was free range and organic."
Dionne points out what Karen Tumulty (forgive if I'm crediting the wrong Swamplander) did: that Bill Clinton earned the nomination way before June, but that the campaign has gone on and fatigue has set in. Myers draws attention to the fact that the Obama campaign has refocused on classic campaign issues to guard against making weirdo free-range comments of their own. Dowd says: BLAH WORKING CLASS BLAH! Obama needs to develop a strategy to conquer Bluecollarstan!
"No one's had more problems with God then Barack Obama," Dionne says. Oedipus would probably beg to differ. He says that some women are resentful, perceiving that Clinton got pushed out because of her gender. Myers sums it all up by saying that there will have to be a "re-introduction period." Myers and Will spar over whether Obama's is a "Hyde Park" guy. He says no, she says yes, and because I have always adored Myers, I'm going to agree with her. I know...shallow. Will says that sooner or later, the femiladygrrls will remember that McCain is ProLifey McAbortionban and will rally to Obama. But Obama "radiates a grace and elegance that some people find elitism." Then George Will shines his monocle collection.
Shorter Dowd: "Yeah Bush made a lot of terrible mistakes, but he was relatable. You could have a beer with him." I say: LIFE IS TOO SHORT TO DRINK FAKE BEERS WITH FAKE PEOPLE WHO TALK IN FUNNY, FAKE TEXAS ACCENTS. But then Dowd says that McCain needs to break with Bush in a big way. Awesome. There's no better job in the world than contradicting yourself on national television.
Will asks if McCain agrees on the war and the economy, where is he supposed to break with Bush? Dowd suggests that McCain gives a big speech on how Republicans have allowed spending to get out of control. Yeah, wow. Can America just agree to be bored in advance?
The Chris Matthews Show
Tweety is joined by Katty Kay, Eugene Robinson, Andrea Mitchell, and David "Flowers for Algernon" Brooks. Matthews declared the race to degrade is on! I don't know! I am already feeling pretty darned degraded. How will the candidates paint each other? I am going to paint Matthews as "Prone to dumb metaphors and odd graphics."
Robinson says that McCain needs to paint Obama as an arugula eating elitist because if he paints him as inexperienced, Obama will note that McCain is old as dirt and his experience leads to terrible ideas that get many, many Americans killed. Kay predicts that there won't be too many pictures of McCain with Bush. Mitchell mocks McCain for labelling Obama a "chickenhawk" when he gave Bush and Cheney a pass. "What war could he have fought in? Grenada?" It's ha-ha funny. But you know what isn't ha ha funny? The fact that John McCain won't support the G.I. Bill.
David Brooks bounces around in his chair like a six year old. He needs a seatbelt, and probably a bib.
Obama's getting "hit" by a bunch of mass emails. He's a secret Muslim. Robinson says something about "secret proxies" and notes that a lot of people who get stupid email forwards and believe them don't vote or vote for stupid people anyway. Andrea Mitchell mentions the whole Barry/Barack thing - but could you imagine if he was running as "Barry?" People would fixate on the fact that his real name was a weird sounding one, anyway, so he might as well embrace it. I'm not sure that pointing out that "Barack" is of the same derivation as "Baruch" does anything more than smack of desperation.
David Brooks then throws CSPAN callers under the bus, calling them a "fringe element." He and Matthews lock eyes, laugh, and make plans to make out with each other during the break.
McCain's health report is 1,000 pages long because he was the original carrier of bubonic plague that decimated Europe and his mother is Hestia, the ancient Greek goddess of the hunt. [AGH. NO. SORRY. Hestia was the Goddess of the HEARTH, Artemis was the goddess of the hunt. WHY ARE ALL THESE GREEK MYTHOLOGY REFERENCES CREEPING IN HERE ANYWAY?]
Matthews then compares Indiana Jones to Newsy Stuff that's in the News.
For real! David Brooks is so bouncy! Watching him in fast forward is like watching an old-timey movie.
Oh yeah. To answer a question of a commenter, I think the Chris Matthews show is filmed on Wednesday or Thursday, so it was before the whole RFK Assassination Tango began in earnest. That's why it hasn't come up, and they are talking about the sexism angle of the race. I realize that this is not really an "answer," of course. Just a set of facts that I am willing to attest to until some better ones come along.
The panel, by the way, agrees pretty much with the notion that HRC wants to stay in the race to "bring her supporters along" to the notion that she lost the nomination in a square fashion and was not "hounded out."
What doesn't Chris know this week? Katty Kay says that "events in the Middle East this week show the dangers of non-engagement" and that the U.S. was "left on the sidelines," and that was an awesome point to make because it is vital and true! Robinson says that corruption in the Iraqi government could be bad for McCain. Mitchell says Clinton might want to be on the ticket because the Senate will be a rocky place and she won't win a secret ballot for Majority Leader. Brooks says that people wonder why Obama doesn't take part in some goofy post-partisan discussion groups. No one really thinks that Obama has much enthusiasm for giving Clinton a high-placed position in a possible Obama White House.
Meet The Press
I love how one of the first things Russert does is relating that Hamilton Jordan died, and sums up his like by pointing out that he was a guest on Meet The Press once! What was his life after that peak?
So we are going to get into matters with a huge, huge, six person panel, all jostling for room around Russert's table. Doris Kearns Goodwin, though! That's awesome. Also Gwen Ifill, David Brody, Jon Meacham, Ruth Marcus, and Maureen "Haircut" Dowd. They get right to paces on the whole HRC RFK overshare, which, if you ask me, looks worse for being broadcast as grainy, streaming, internet footage.
You know, Bill Burton's response to the whole matter was pretty even-keeled. It's not like the Obama campaign responded with a full-on Keith Olbermanny spittle shower. It's weird that Clinton apologized whilst standing in the condiments aisle of a grocery store.
Anyway, people wrote and talked about it. Goodwin says that neither historical precedent that she cited was true. Oh, snap! Dropping some presidential historial science on America! Haircut says her timing was bad, and she says so while wearing something made of terry-cloth. Gwen Ifill says that you can never talk about Hitler, and you can never talk about assassination. Talking about assassinating Hitler, though, is okay. Also: don't poke sores or re-open scabs. That's just good advice for like, you know?
Back in April of 1992, Tim Russert was totally smart and Jerry Brown was Hillary Clinton and Bill Clinton was Barack Obama and Kurt Cobain was alive and I was looking for a new roommate to replace the jackass that was moving out of my apartment. So, Jon Meacham, put all of this into perspective, please? He assures us that Clinton does not wish him bodily harm, she's just hoping for a cataclysm. So, look forward to that, America.
As is his wont, Russert takes a few minutes to count up all the delegates.
David Brody makes some sports analogies, but the one about the end of the basketball game, with one team forcing the other to go to the line, is fairly apt. I think that earlier talk about Clinton leaving the race in such a way to keep her supporters on the reservation makes a bit more sense. Marcus says that she doesn't see any political advantage behind anything that Clinton is saying, but that the RFK remark was borne out of 'exhaustion and self-pity.'
Then they cut away to Obama blurbing Doris Kearns Goodwin's Team Of Rivals. Goodwin notes that Lincoln put a lot of real playerhaters on his cabinet, and that Obama's claims to be willing to do the same thing. "Better to have your enemies inside the tent pissing out than outside the tent pissing in." At the sound of the word "piss" Russert says, "I just heard the beep." For piss? Really? We can't say "piss" on TV? Ridiculous. Anyway, NOBODY BLEEPS DORIS KEARNS GOODWIN.
Russert wants to get into sexism, which was the old racism and is now the new racism, which is the old sexism, and collectively is all the new Dadaism. Yeah, Bill Clinton...talk about sexism why don't you! And, yes, definitely kick the question to Maureen Dowd, whose sympathy for the Clinton's is legendary, in its non-existence.
Then Russert reads an entire Ruth Marcus column to Ruth Marcus, and reads a column that disagrees, and, SURPRISE! Marcus agrees with Marcus. Also, HRC has "plowed the field very well" and the "famous Hillary nutcracker is regrettable." David Brody says that the timing is bad - maybe she should have complained about getting hied from the election a year ago? Ifill says that she runs into "truly deeply angry women" who believe that Clinton's losing the nomination is the end of the road for all women for all time.
Tim Russert and John Meacham agree that independent voters are even more sexist than Democratic voters. Then Meacham shows off that electric personality of his that helps to put adrenalized chipmunks to sleep in lengthy comas.
David Brody reminds us that Iowa is filled with "snowy white people." Walking snow angels of whiteness. Primary season snowmen whose munificence melted the hearts of black voters, allowing them to dream about voting in a monolith for the first time since the last time they voted,
Oh boy, more about race in the campaign. Still the first twenty-eight minutes past really quickly. Probably because everytime John Meacham spoke is was like taking a dose of Rohypnol and waking up minutes later just relieved that no one had stolen your kidney.
Friend of the liveblog Christopher Blakely says: "Another observation I would offer is that today's show presented a new wrinkle to the famous Tim 'gotcha moment.' To refute Hillary's claim that previous primary campaigns went well into June, Big Russ put up a tape of himself commenting on Bill Clinton's apparent primary win in April of 1992. What's next, souvenir MTP Mugs sporting Tim's mug?" Dude! Look at the coffee cups the guests have today! I think that is exactly what they've been given!
Is America ready for a black President? Meacham says, that "in theory, yes, in practice, it's a toss up." Thirty percent of Democrats fell into the white-hot end of something called a "racial resentment index." Race makes both white and black people queasy. But we have to talk about the quease! "Look at the results in West Virginia and Kentucky?" Look, I am not going to lie - a lot of people in those states who are the same race as me make me queasy. Also, ALL TEENAGERS make me nervous. I'm glad that there's a high-pitched noise than only they can hear. i wish I could make it.
But I digress. Gwen Ifill says black people get queased by race, too. Meacham says that Harold Ford thinks Obama should "walk across Kentucky and walk across West Virginia." I think that is going to take an awful lot of time! Why not drive across those states? Why not walk across Ohio and Pennsylvania, and send West Virginia and Kentucky a nice note encouraging them to make get about a dozen more votes in the electoral college, kthxbai? Ifill says, "What states does McCain has to walk across?" He's well traversed the state of delusion, anyway!
Then there is a long, lingering shot of Ifill and Meacham craning their necks to look at Doris Kearns Goodwin.
Now Russert is saying "He's a Muslim, he's a Muslim, he's a Muslim, no--he's a Christian." And Obama was "very publicly baptized," whatever that means. What's a public baptism. This Sunday! At Soldier Field! Monster trucks do battle! Also, your future Senator gets BAPTIZED! Take a picture and remember it, because a lot of people are going to be unsure about it! David Brody says that the Obama campaign is having regular religious outreach meetups that far exceed what McCain is doing.
Meanwhile, McCain had to drop John Hagee like a wet bag of turds thanks to our own Sam Stein pointing out that wet bags of turds are less anti-Semitic than John Hagee. Dowd says she misses the McCain that "stood up to agents of intolerance." Glad you finally noticed, Haircut!
Brody says that the Googles would have revealed that Hagee was more than just "big on Israel." Of course, he fails to mention that Hagee was only "big on Israel" because he wants Israel to get blown off the face of the earth in accordance with Biblical prophesy.
John McCain says that he "will not accept...lectures" from people who didn't serve in the armed forces about policy matters related to them. Know what, John? You want to be President of the United States, so, guess what? YES YOU ARE GOING TO ACCEPT SOME LECTURES. And you are going to smile, and accept them gladly, and be polite and contrite about it because THAT'S THE JOB, BUCKAROO. Also, Doris Goodwin says SUCK IT TO THAT NOISE.
Dowd thinks that Obama is not as "intimidated of McCain" as he seemed to be with Clinton. He's "freer." Yes, Haircut, it is almost as if Obama and McCain are members of opponent parties that traditionally spar with one another, as opposed to being members of the same party, courting the same constituencies. It's sort of amazing how that all works!
Doris Goodwin then puts Ted Kennedy's career into fitting perspective, and includes the warning that John Meacham can tell us all about the Millard Fillmore presidency, which is, I believe, the plot of the next HOSTEL movie.
Okay. It's time for all of you stop reading liveblogs, stop watching Sunday morning television, and get out and enjoy your Memorial Day Weekend. We'll be back next week, and we'll likely return to the self-torture and strenuous exercise of Fox News Sunday. In the meantime, enjoy the holiday, frolic in the Springtime air, and remember, it's officially safe to wear white again. (Though white jeans are never, ever appropriate.) See you next week!