Lee Grivas, the 26-year-old boyfriend of Christina Applegate, was found dead in his apartment.
He was found on July 1 by a neighbor who found him in the living room of his Hollywood apartment. Grivas was pronounced dead at 5:25 PM.
Although the autopsy has not been completed, we're told there were no visible signs of trauma.
The story was first reported by the National Enquirer.
***
The LA Times confirms the death of Lee Grivas.
Us has a source that claimss that Christina and Lee Grivas were not together at the time of his death.
She released a statement about Lee Grivas:
"I am profoundly saddened," Applegate said in a statement to Usmagazine.com. "Lee was an incredible human being who was an extremely important and beautiful part of my life.

"He is missed beyond words," she added. "He touched so many and I feel much sadness for his mother, father, brother, and all of his family and friends."
***
The National Enquirer reports Lee Grivas died of a drug overdose:
Samantha Who star Christina Applegate's boyfriend Lee Grivas was found dead from an apparent heroin overdose on July 1.

Applegate and Grivas, a 26-year-old skateboarder and photographer, had a rocky on-again, off-again relationship due to his continual battle with drugs and alcohol. But the couple had decided to give it one last shot this past April when Grivas made another attempt at getting clean, according to The National Enquirer.

"Lee also had a long history of drug problems, dating back to his teen years. Christina broke up with him a number of times because of his struggles with getting clean. She loved him, but couldn't stand by and watch him ruin his life," according to the Enquirer.
A Decemeber 2005 People magazine on Lee Grivas:
Christina Applegate may be in the middle of a divorce from actor Johnathan Schaech, but she seems to be learning that there are other fish in the sea.

Her latest catch is Alaskan fisherman and aspiring photographer Lee Grivas, whom she met in the fall through a dancer in her Broadway show Sweet Charity.

"We're very happy with each other," Grivas, 24, tells PEOPLE in its upcoming issue. "I like making her smile and she likes making me smile. It's really innocent and fun."

Schaech, who filed divorce papers Dec. 5, seems to be moving on too: He was partying Dec. 17 at the Las Vegas club Seamless. The couple officially separated six months ago.
Christina and Lee Gravis had broken up before, but were back together in April 2008.
In happier times Christina and Lee Grivas attended a Maui hotel opening together.
Christina and Lee Grivas also spent New Year's together 2 1/2 years ago: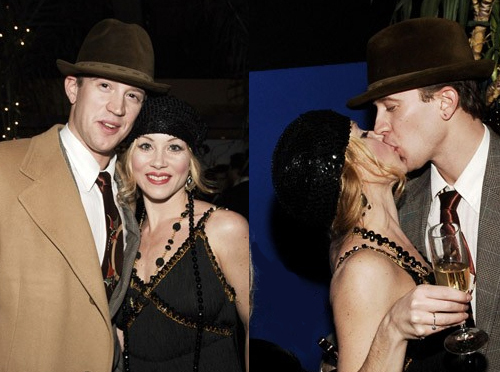 Lee Grivas
News on Lee Grivas
NYDN on Lee Grivas
Related: Christina Applegate Cancer Diagnosis Confirmed By Publicist
SUBSCRIBE TO & FOLLOW ENTERTAINMENT
THE spot for your favorite fan theories and the best movie recs. Learn more