So, after a tumultuous year, how did the Yahoo annual board meeting go?
Depends on who you ask. If you ask Carl Icahn, he probably thought the day went great -- he didn't attend, and instead spent some time thinking about the money he's making on ImClone, the stock made famous by Martha Stewart. You ask Jerry Yang and he'd probably say it went fine -- since he didn't step down today, as some speculated he might.
Ask the Internet, though, and you get pretty varied response: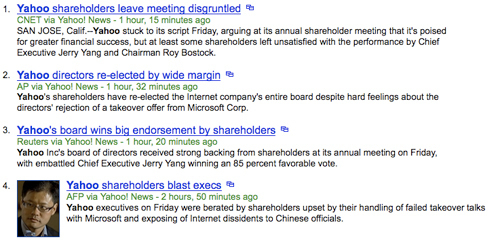 "I like Jerry, but I think a new CEO is needed," said Eric Jackson of Ironfire Capital, which controls 3.2 million Yahoo shares, in an interview after the two-hour meeting here wound down. And that's not all--he also wants to see board members Bostock, Eric Hippeau, Arthur Kern, and Ron Burkle step down. And he wants to see Yahoo cut jobs and exit some businesses.
Yahoo Inc's (YHOO.O) board of directors received strong backing from shareholders at its annual meeting on Friday, with embattled Chief Executive Jerry Yang winning an 85 percent favorable vote.
SUBSCRIBE AND FOLLOW
Get top stories and blog posts emailed to me each day. Newsletters may offer personalized content or advertisements.
Learn more