***CHECK BACK FOR UPDATES***
Read more Olympics news at HuffPost's Olympics Big News Page.
Walsh also posed with President Bush this past weekend
Kerry Walsh and her teammate won her opening match against the Japanese team, leading her one step closer to her goal of volleyball gold:
Olympic volunteers won their own pursuit for gold yesterday, finding a lost wedding ring in a huge sand pit used for women's beach volleyball.
Beijing Olympics

When Olympic champion Kerri Walsh jumped to block the ball in her opening match, the gold band flew off her finger.

The ever-smiling American, who is married to fellow beach volleyball player Casey Jennings, carried on with Misty May-Treanor en route to a 21-12, 21-15 victory over Japan's Mika Teru Saiki and Chiaki Kusuhara. Volunteers were later dispatched to find the ring. Armed with metal detectors, they combed through the sand. Finally there was a beep and one of them, Song Zhendong, dug out the ring.
Kerri Walsh participated in the 2000 and 2004 Olympics in volleyball (from Wikipedia):
Sydney 2000

Walsh played in the 2000 Summer Olympics on the U.S. women's indoor team, earning a fourth-place finish.

She missed several of her first games due to a false positive on a drug test, which indicated a suspicious epitestosterone to testosterone ratio. After being retested, Walsh was cleared of any wrongdoing and allowed to continue playing.[7]

Athens 2004

At the 2004 Summer Olympics, Walsh and Misty May won the gold medal in women's beach volleyball for the American team. Winning an unprecedented[citation needed] ninety-one matches and 16 tournaments in a row, Walsh and May captured the gold without ever losing a game.
Check out the official website of Kerri Walsh.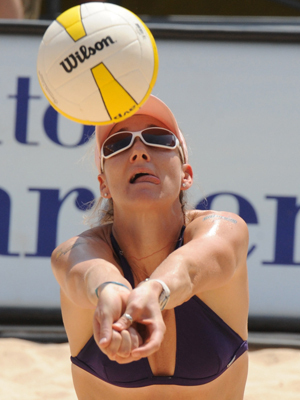 As reported by The Daily Telegraph, volleyball is set to be more popular than ever at this year's Olympics, thanks in no small part to Kerri Walsh. Walsh, along with partner Misty May, dominated the 2004 games and now currently hosts a radio show on Sirius' Faction 28.