This piece was originally published on JCReport.com.
Back in February 1988, Vogue's "Point of View" column constantly alluded to the "right" style. Pants in this category were "narrow over the hip, softer and wider through the leg," while jackets were "longer, sharply tailored...often graphic in its design," hemlines were short, the proper color was green and the best accessory a scarf.
Twenty years on and the diktats of cool have become much less defined. Elle's March 2008 issue advises readers to stock up on cargo pants, mannish trousers, skinny jeans, denim cutoffs and flares, to pair with floral blouses, white tees, pajama tops or gypsy-inspired camisoles. And, while the apparel list seems rather extensive, every proper fashionista's list of must-have shoes also includes sculptural heels, wedges, gladiator sandals, ballet flats, open-toed booties and moccasins.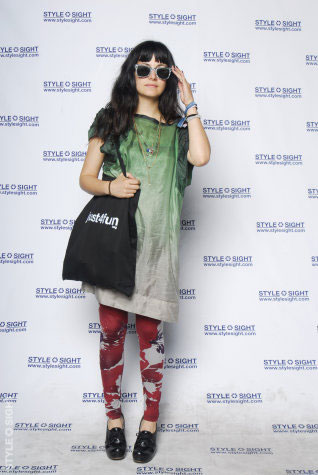 Image courtesy of Style Sight
When it comes to fashion in 2008 the only prevailing trend is that there are no prevailing trends. From excess to minimalism, free-spirited ingénue to tailored sophisticate--and everything in between--designers are mining just about every culture, decade and mood to create a distinctly "anything-goes" aesthetic.
"It's always been difficult to define an era's trends without generalizing, but nowadays, it's difficult to even define what a trend is," says Ben Whyman, writer and lecturer at London College of Fashion and arts editor of Issue One magazine. "It's safe to say the '80s were the age of the Yuppie and the New Romantic, while the '90s were about grunge on the streets and minimalism on the catwalks. But in these tight economic times, designers and shops are desperate for customers, so they're offering up lots of mini-trends within trends to appeal to as wide an audience as possible. It's hard to pin a season down to a single idea anymore," he adds.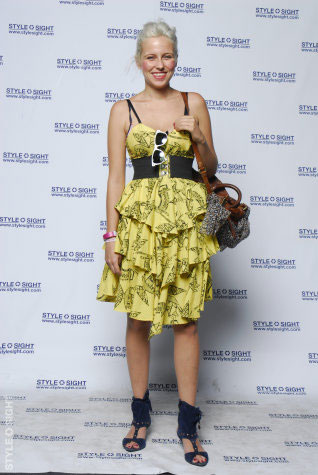 Image courtesy of Style Sight
In this absence of a clear-cut sartorial zeitgeist, "Designers are focusing more on their own brand identities, despite what everyone else is doing," explains Stephanie Meyerson, Director of Youth Culture at trend resource agency Style Sight. "Balenciaga, Marc Jacobs, Gucci, Prada--all have an unwavering sense of brand vision and creativity, regardless of fleeting trends." It's an evolution that, though great for creativity, has made the editor's job of pinpointing "the new black" much more difficult.
It's not just designers who are contributing to the end of boldface trends, however. Armed with broadband and blogrolls, consumers, too, are rejecting the commandments of the editorial elite, taking inspiration from peers around the world to craft their own personal interpretations of style. Rather than buy into one trend from head-to-toe, like the "preppy" or "punk" movements of decades past, consumers are appropriating eclectic influences and remixing them like a DJ does with music. It's now common to see stylistic mash-ups, like a demure Stella McCartney floral-print blouse coupled with Alexander Wang's grimy cutoffs and finished off with a pair of Balenciaga's erotically charged knee-high gladiator sandals.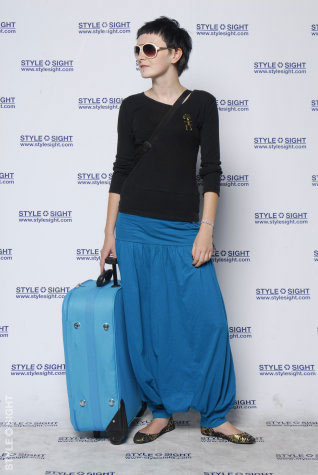 Image courtesy of Style Sight
Sure, mixing different influences isn't particularly groundbreaking, but the current difference is the result of access. The boldness of the aforementioned outfit, for example, is no longer unique to the creative enclaves of London, New York and Paris. We're now seeing this kind of independent dressing everywhere from a flea market in Perth to a gig in St. Louis or a lounge in Prague.
"With the rise of 'fast-fashion' retailers, consumers have an overload of trends to choose from," explains Meyerson. "They ingest so much information from magazines, internet and TV that they're able to quickly digest the trends, buy what they want and style things in a unique, smart way. Not to mention the economy is making us think twice about each purchase, which brings a natural creative consciousness back to fashion." Adds Whyman: "The consumer is now so savvy that they choose only what's right for them and their lifestyle. I think this is the fundamental difference from 10 or 20 years ago, when people were more likely to loyally buy into one designer's ethos."
In the run-up to the spring/summer '09 collections, we'll be taking a closer look at how the trend is being re-defined, from the role of retailers in its shortening life cycle to the influence of alternative media in its proliferation. We may be just as baffled once show season rolls around, but hopefully there will be a little more context to the chaos.
This is the first in a three part series. The subsequent articles will appear on the next two Mondays, August 11 and August 18.
SUBSCRIBE TO & FOLLOW LIFESTYLE
We're basically your best friend… with better taste. Learn more