Spotted: Serena And Dan, Foolishly Stopping Near Me And My Camera
Yesterday afternoon I enjoyed what is becoming a frequent New York City moment: Catching a sighting of Gossip Girl paramours Blake Lively and Penn Badgely, aka Gossip Girl paramours Serena Van Der Woodsen and Dan Humphrey (yes! It's life imitating art! They love each other on the show and in real life!). Dan and Serena (okay fine, Blake and Penn) were walking with a friend down Second Avenue and turned left on 10th St., passing right by the outdoor brunch table I was enjoying with equally boldface-able media types Glynnis MacNicol and Keli Goff. Everyone was all a-twitter (yes, literally).
Alas, I missed them on the first pass but miraculously, the Gossip Girl Gods were kind, and inexplicably made them turn around and wander back a few minutes later, then stop obliviously on the corner about three feet from where we were sitting. Really, at that point you have no choice but to take a photo, so that is what I did, even though it made me feel kind of dirty. They didn't seem to notice or care though, which was a relief — I know that Serena's had a rough year.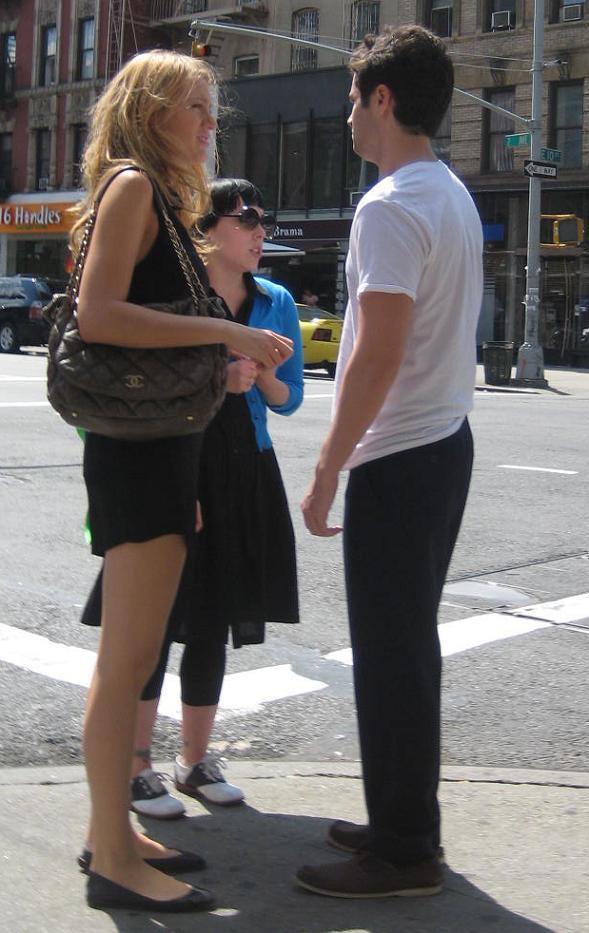 The best part is that they were standing right in front of this: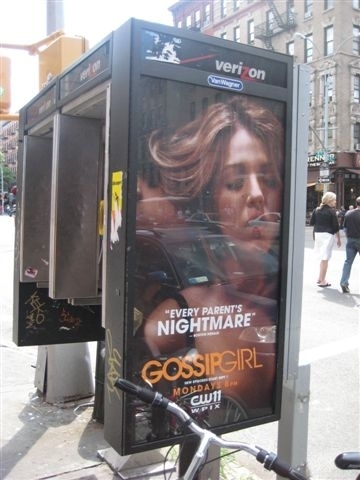 (Better images of ad campaign here.)
If you doubt what a faux-paparazzi shot of Blake Lively and Penn Badgely has to do with media, then you obviously aren't in media, where everyone seems to agree that the big event of September 1st is not the kickoff of the RNC, but the season premiere of Gossip Girl. Enjoy some second-season teasers below — we hear the Fashion Week episode is particularly awesome.

Gossip Girl — Girl Talk


Gossip Girl — Boy Talk
Related in HuffPo Staffers Obsessed With Gossip Girl:
Verena von Pfetten: OMFG! Let's Talk About Sex [HuffPo]
Joe Satran: Meeting Penn and Blake [HuffPo]
Danny Shea: Top 5 Chuck Bass Moments From This Week's Gossip Girl [HuffPo]
David Flumenbaum: Blake Lively And Penn Badgley Enjoy All-Star Game [HuffPo]