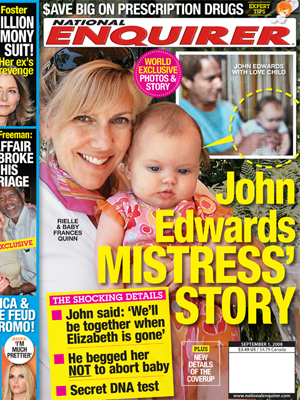 The National Enquirer this week has several updates on the John Edwards/Rielle Hunter story, including pictures of Hunter's baby -- previously described as looking like "John Edwards in a onesie."
The day prior to Edwards bombshell admission to an affair on ABC's Nightline, Rielle Hunter and her 6 month old daughter, Frances Quinn Hunter, were flown out of the US onboard a chartered Learjet.

The private flight cost $50,000 and was paid for by Edwards' pals. The Hunters were the solo passengers aboard the eight-hour flight.

Destination: St. Croix in the Virgin Islands!

THE ENQUIRER tracked Rielle to St. Croix where our reporters discovered Rielle and the baby stayed in a luxurious oceanfront home owned by controversial trial lawyer Lee Rohn, another close friend of Edwards.
FOLLOW HUFFPOST