Greetings from Media Tent 4, home of the workspace of the Houston Chronicle, ETP's host during the convention! We've been enjoying their famous Texas hospitality, including key elements like wi-fi, diet coke, chips n' salsa and a bowl of little chocolates. This place is awesome. We also enjoyed the beneficence of the Chron during the White House Correspondents Dinner, along with our pal Amber Lee Ettinger, aka Obama Girl, aka the person who caused a near-riot in front of the convention center, which would have been easily broken up by the black-suited police everywhere except that they were posing dutifully behind her. (Just kidding, it wasn't a riot, more like a continuous press scrum for a good ten minutes, at least.

Amber, Rach and Glynnis on the Chron couch, soaking up the atmosphere. So far, no cowboy hats.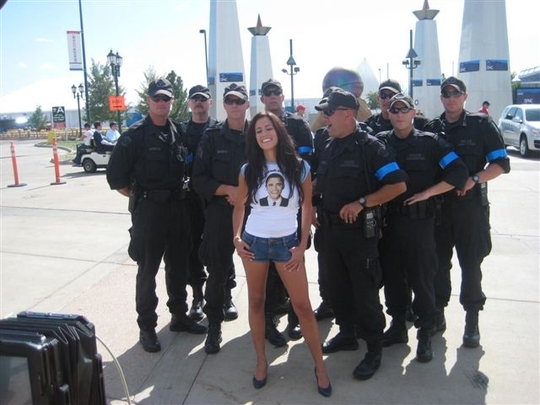 Obama Girl and her fans, who must really like her to stand in the baking sun dressed like that. That's all sorts of hot right there.

Obama Girl becomes O-Scrum-A Girl. Yuck, that sounds truly terrible. But that does qualify for a scrum.
SUBSCRIBE TO & FOLLOW THE MORNING EMAIL
Start your workday the right way with the news that matters most. Learn more