The DNC is fastly fading in memory and ceding the spotlight to the Republican National Convention, the start of which has been postponed. But we thought we'd cap things by sharing some of the Polaroids shot by Liz Glover, who's been a great boon to our Vlogorrheia videos and who offered us up some wonderfully unique clips from the DNC last week.
As a way of explaining, Glover is well known for her pink Polaroid camera, a ubiquitous fixture that has aided her in numerous instances in getting the sort of interviews that feature her odd blend of the understated and the over-the-top. On their own, the Polaroids are a charmingly antique record of the event, with Liz as some sort of Zelig figure, and her subjects captured in a rare, spontaneous aspect.
"The history of my use of the camera, aside from being a lifelong Polaroid enthusiast, is that last September when I covered Fashion Week for Gawker/Wonkette I used it as an ice breaker - something to entice people to allow me to interview them on video for a site they had an inclination to avoid. It's kind of a cheap ploy to get people to talk to me but it works!

Then I took it to the meet the press anniversary party and Amy Argetsinger [WaPo's "Reliable Source"] loved it. She was like, "This is the most exciting thing that's happened at a DC party in years!" She wrote it up in the Washington Post, and wrote an update on how folks were reacting to it in New Hampshire when I was up there for the primary.

I don't really need to use it anymore. But by now I have so many of them with such a wide array of celebs, politicians, athletes, musicians, I figured I can have an art show or something if the whole comedian/journo thing doesn't work out. So I keep adding to my collection when I can."
Liz was kind enough to share many of her DNC shots with the Huffington Post, and, as my way of thanking her for helping Ana Marie and I out, I'm happy to publish them here. Liz is heading to the RNC, I believe, even as I type, so hopefully we'll have the opportunity to enjoy more of her prankish fare from St. Paul.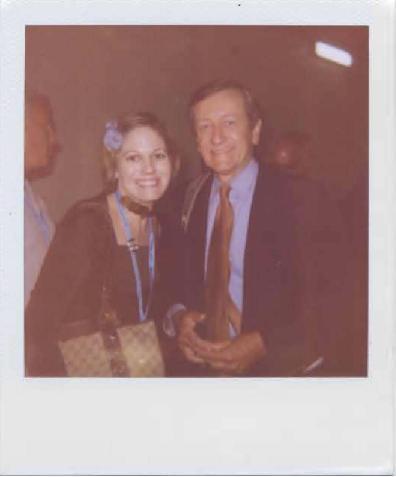 Liz and Brian Ross of ABC News. "Brian Ross just oozes happiness and good will. He's a super nice man."
"Senator Ben Nelson and his delightful wife, Diane. They were
very friendly and thought the camera was charming."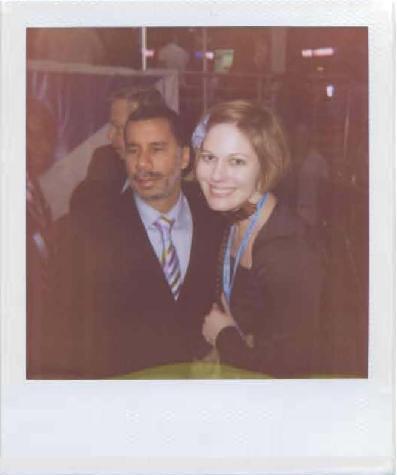 Liz with New York State Governor David Patterson. "Also, just as pleasant as can be."

Liz has a close encounter with Richard Dreyfuss.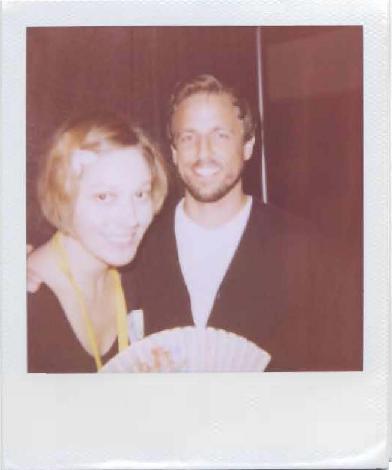 Liz, with Saturday Night Live writer and performer Seth Meyers. "The first Proid we took was one of the funniest things I've ever seen - it was pure comedy. So I gave it to him because I wanted him to have it and we took another which I kept, shown here."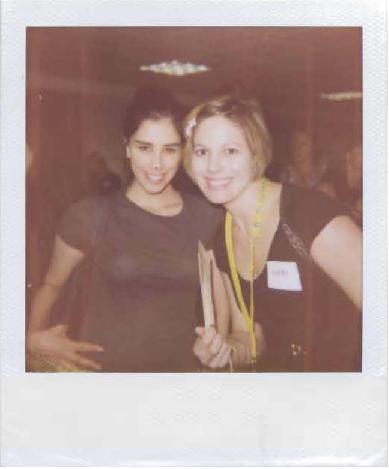 Comedienne Sarah Silverman. "She is really arching her back in this one!"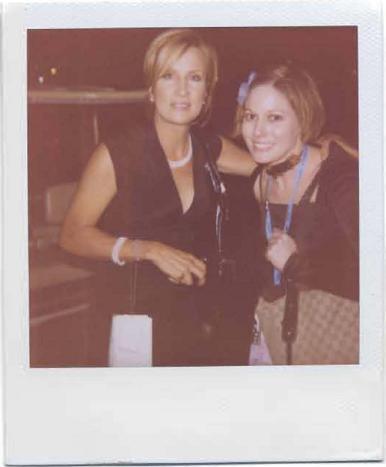 MSNBC's Mika Brzezinski "loved the camera."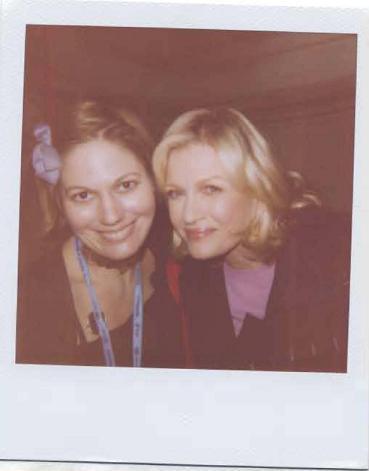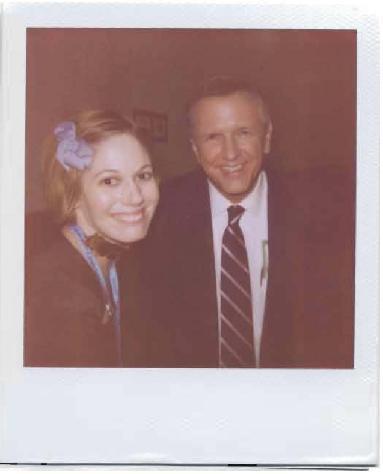 Liz with Diane Sawyer, above, and Charles Gibson, below, who were both "warm and gracious" and also Polaroid fans.
Alan Cumming, was "very shy - wasn't super psyched about the camera, and was not giving interviews."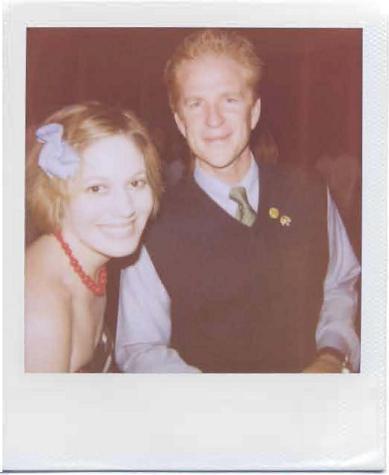 This shot of Liz and actor Matt Modine was taken by Tim Daly, who Liz subjected to two strange interviews during the week. "By now Tim Daly and I were such good friends."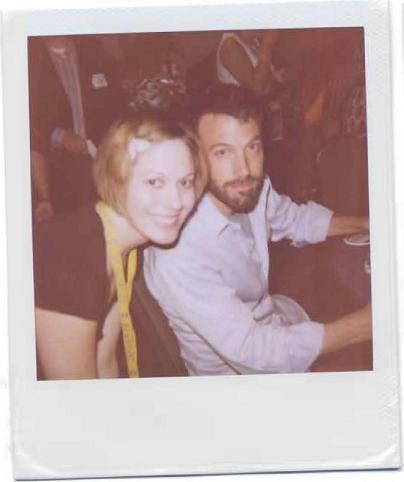 "Ben Affleck was very nice. Film ran when we posed for first shot
so he even gave me a second chance after we reloaded."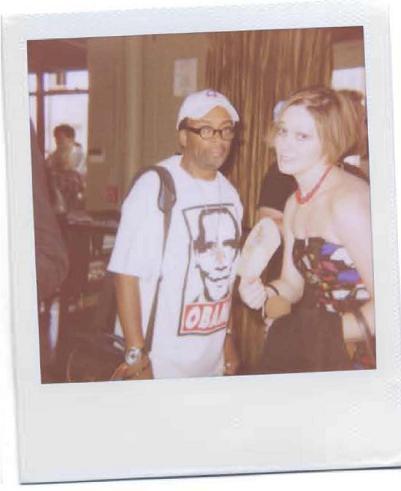 "Spike was all about the attitude. Like, yeah, whateva."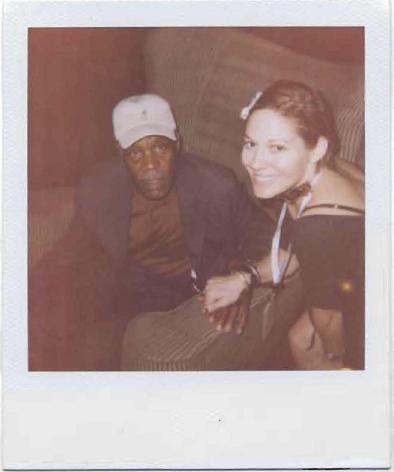 Liz with Danny Glover. No relation. "We'd been together for over an hour at this point while I waited to interview him. By that time he called me by terms of endearment - honey or hun. We bonded over matching last names."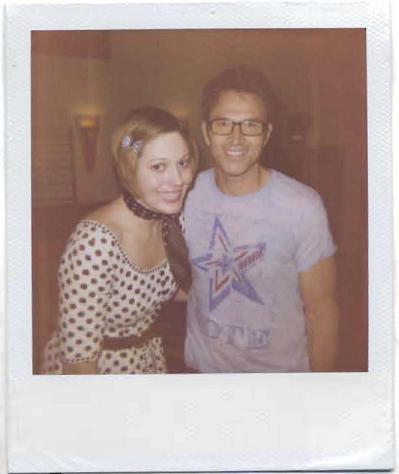 Liz with her new BFF, Tim Daly.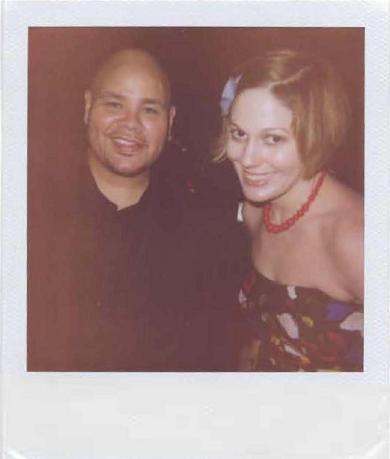 Liz poses with Fat Joe at the RIAA/One Party. "He was down with the cam and very nice. I was blinded by the rocks in his ears and I don't usually notice such things but they were HUGE."
SUBSCRIBE TO & FOLLOW POLITICS
How will Trump's administration impact you? Learn more