Hours ahead of Sarah Palin's big speech at the RNC, the Palin family met the McCain family as they arrived at the airport. Visible in the live shots on MSNBC taken at the airport appear to be two new campaign faces: Palin's older son Track, who is in the Army and is likely the gentleman with close-cropped hair, and daughter Bristol's boyfriend Levi Johnston, with whom she expects a child later this year. The pair were holding hands on the tarmac. Also getting off the plane for the family affair were McCain's kids Bridget and Meghan.
Here is video:
<0--1757594536--hh>0--1757594536--hh>
A picture: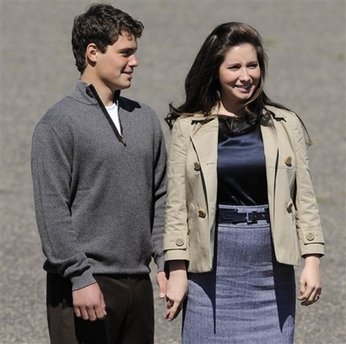 Plus more new Levi Johnston photos

AND

Pictures of Levi Johnston's tattoo
AND
Todd Palin photos, as the "first dude" has now trimmed his goatee.
AND
Track Palin photos, as Sarah's oldest child makes his first public appearance since Friday's announcement.
FOLLOW HUFFPOST