Last night we went to the launch party for Meghan McCain's new children's book, My Dad, John McCain, all about her dad's life story and rise to be the Republican nominee for the presidency. We didn't see Meghan there — though apparently she did arrive, eventually — but we did see Roberta McCain looking hale and hearty and chatting with well-wishers as songs like "I Love Rock N' Roll" played in the background. Around the corner there was a VIP room with a big flatscreen TV, tuned to Fox.
The party was for grown-ups, but the book itself is meant for children aged 5 - 10, according to the front flap, which also tells us that the book, "written with great love and insight by his daughter Meghan McCain, shows us the public John McCain and the personal John McCain in a way we've never seen before - making this American hero come to life before young eyes." Our eyes are, alas, not so young, and neither are yours, but we have nonetheless reproduced each page for you to judge that for yourselves.
So: here's a pretty complete look at the book, and John McCain's life in simplified-for-kids form. There are obviously details left out and sunnily painted (cf. his first wife), and I have no doubt that a few elements here that would draw fire from McCain critics. (See you in the comments!) What I find interesting about this book is the timing of its publication and how closely it resembles campaign literature.
It's hardly an issue for McCain-Feingold, but it seems a neat way to disseminate the official campaign narrative courtesy of Simon & Schuster, with pretty sweet timing (here it should be noted that there are both Barack Obama and Hillary Clinton children's books, though not written by family members). I guess this is the GOP-side equivalent of the will.i.am video? Or the Shepherd Fairey art-craze? Or the Paris Hilton response ad? Obama did win a Grammy for the audio version of his book...though it was published in 2006.
My friend Jeff thinks I'm being petty, but actually, I just think it's interesting — more than any other campaign, this one has seen supporter-generated content from outside the campaign take off and have an impact, often using technology in ways not contemplated when the rules were established. As long as there are rules, there will be ways to get around them, and as long as there are blurry areas there will be slippery slopes on either side of them.
For now, you can buy your own copy for $16.99 U.S./$19.99 CAN — 1% of proceeds goes to the Fallen Heroes Fund &mdsh; and it looks like Time's Joel Stein gives it the thumbs-up.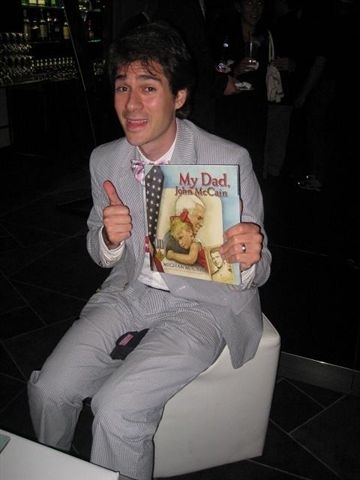 NB: Stein did not actually endorse the book, nor had he read it at the time the photo was taken. He merely posed with it. He did, however, endorse the seersucker.
SUBSCRIBE TO & FOLLOW TRUMP'S FIRST 100 DAYS
How will Donald Trump's first 100 days impact YOU? Subscribe, choose the community that you most identify with or want to learn more about and we'll send you the news that matters most once a week throughout Trump's first 100 days in office. Learn more