In a continuation of the trend of celebrity magazines covering political figures this presidential campaign season, both Us Weekly and OK! feature John McCain's Vice Presidential pick Sarah Palin on their covers this week.
Us headlines its cover, "Babies, Lies, and Scandal" while OK!, which uses the same photo as Us, but flips it, goes with "A Mother's Painful Choice." Interestingly, OK! goes with a double-cover, seen below, with the alternative cover a picture of Barack and Michelle Obama from Thursday night's acceptance speech, also flipped horizontally, with the headline, "Life With My Girls."
Us featured the Obamas on its cover in June, to surprising newsstand success. People recently featured the Obamas as well, but with less successful newsstand results.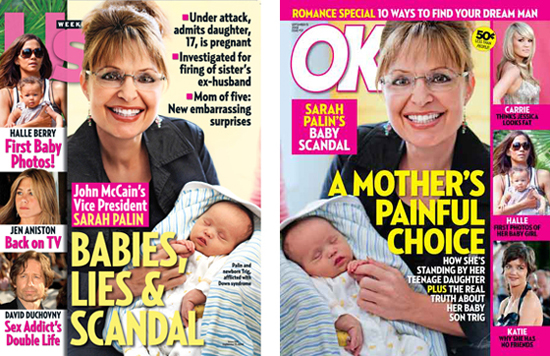 The back side to OK!'s Sarah Palin cover: