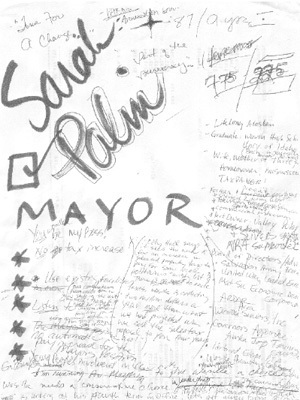 The New Republic reports:
On a recent reporting trip to Alaska, TNR senior editor Noam Scheiber came across a piece of paper from an old Wasilla city budget, on the back of which Palin doodled and brainstormed her potential mayoral campaign themes ("time for a change," "you would be my boss!") and qualifications ("life-long alaskan," "NRA supporter," "taxpayer!"). Read the fine print on this 1996 document; it's a fascinating glimpse into how she thought she could best present herself to the Wasilla electorate.
Jake Tapper at ABC examines these glimpses into Palin's early political mind and finds several issues with the way she intended to sell herself:
Two policy items of note:

Planning out her campaign promises, Palin writes, "no automatic pay increase for the mayors position" and also "City Hall says it sees the need for an increase in sales and property tax to pay for some local politicians wish list. There is no need to raise taxes, Wasilla is collecting two million dollars a year than what we had projected when we sold the sales tax proposal to you four years ago."

Both of these are forms of claims she has since made on the vice presidential stump - that she took a pay cut as mayor, and that she fought taxes.